What is Politie Federal Computer Crime Unit Virus?
Politie Federal Computer Crime Unit Virus is a fake Belgium police Alert which is designed to lock your computer and scam you into paying for the penalty. It's a clone of ransomware series. Like Canadian Security Intelligence Service (CSIS) virus and London metropolitan police virus, it claims that the alert information is originated from the state organs and blocks your computer so that you can neither search with browser nor run any antivirus to scan your computer to kill it. Every time you start your computer, it launches itself automatically showing you a fake report to confuse you. By the way, no matter in what condition, please be careful when you are using your computer, be cautious of multifarious virus. Keeping a good habit in usage of your computer is the best way to keep away from virus. One situation is like this: the report accuses that you have visited some illegal websites like child pornography websites and your IP address now is under official investigation, such activities violate the law. The purpose of this ransomware is demand for your ransom to unlock the computer.
Harmful Effects or symptom of Politie Federal Computer Crime Unit Virus
The effects can be both from computer itself and economic losses. The common harmful effects include:
?.  Irritating pop-up alerts and messages
?. Bundled with other Trojans which is able to collect user's online account, password information
?.  Half paralyzed operating system
?.  Unexpected boot ups etc.
?.  Economic losses (if you are cheated by this ransomware and pay the ransom)
Transmission routes of Politie Federal Computer Crime Unit Virus
Politie Federal Computer Crime Unit virus mainly spreads via Trojan on unsafe websites, email virus, and other malicious software. Such kind of virus spreads in one country at the beginning, then from a country to another with a clone version. Politie Federal Computer Crime Unit Virus has an interface with Belgium official style and language.  It accesses your computer via various routes to capture your computer. It results in improper function of system to ransom you for money. Some PC owners who have little experience may be deceived by such malware. Even if you pay for the ransom, you will get nothing but just lose your money and make a chance to enable cyber criminals to gain remote access to the compromised PC system. It must be remove as soon as possible in order to protect your system performance getting to be worse.
Politie Federal Computer Crime Unit Virus ScreenShots: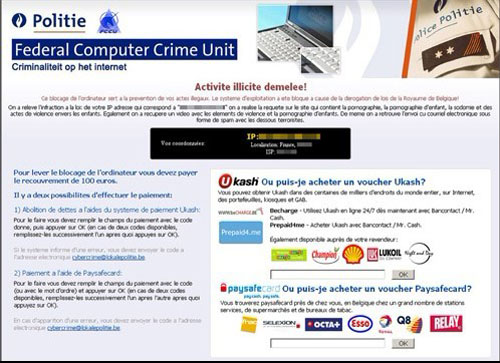 Two choices of manually remove Politie Federal Computer Crime Unit Virus
Since Politie Federal Computer Crime Unit Virus captures your computer system, no antivirus can remove it safely and completely. In this situation, you have two normal choices to solve your problem.
a.  If you are confident enough about your computer skills, you can remove it by yourself.
And the key steps of this choice are as follows:
?        Delete all Politie Federal Computer Crime Unit Virus infected files in your computer.
?        Delete the registry entries (tips: if you are not an expert of this, what you have done will make your computer in disorder and the problem may be more complex.)
b.  The fastest and best way is to maintain your computer online via expert workers. The first thing you have to do is to find a professional online PC saver.  YooCare provides complete computer care services 24/7 online to protect your computer from security threats, fix/maintain PC problems and maintain your computer in a healthy status.
Note: If you failed to remove the virus, please contact YooCare Expert immediately to save your laptop or desktop.

Published by & last updated on May 7, 2012 8:10 am