At this Internet age, VPN becomes a very important tool. People use it to protect their privacy, safeguard online traffics, unblock restricted contents, download folders privately and conduct more online activities safely. However, not all VPNs suit your need. Some of them are excellent while they are expensive, and you only need to for anonymous browsing. Some of them are great at encryption while you may need a faster VPN for streaming. Some of them work with all famous streaming services while they fail to work in your country due to strict censorship. How to pick the right VPN? On one hand, you can read reliable VPN reviews. On the other hand, test how the VPNs work by using their free trial. VyprVPN is one of the famous VPNs that offer free trial to let users get started with them without taking a risk. Learn how to get VyprVPN 3-day free trial in this article.
VyprVPN 3-Days Free Trial
Free trial is welcomed when people use online service. Before people purchase a service, they can use free trial to learn the service. That helps people avoid wasting money on testing services one by one to find the best one. VyprVPN kindly offers 3-day free trial. It gives every new user a chance to test their service without a risk. You don't need pay for the trial. You have three days to test the VPN speed, uptime, security & privacy protection, ability to bypass geo-restriction and other aspects. It's your choice to keep the account or cancel it after the free trial. You won't be forced to purchase a plan if you don't want to.
It requires your name, email address, payment detail to create a VyprVPN account to use the free trial. Many users said they were worried that they would be charged as they didn't know whether they liked the service. They thought that they were charged once they provided payment detail. Some of them even concerned that the provider would steal their money. Hence, they gave up the chance to give this VPN a try. In fact, it is safe to use the free trial. As VyprVPN claims on the payment page, you won't be charged until after your 3-day trial expires. You have three to try this service out. The provider can't steal your money without your permission after you enter credit card number. Besides, VyprVPN is a reliable VPN provider. They offer transparent prices and there is no hidden fee. You won't be overcharged. When you create VyprVPN account, you can choose billing cycle, monthly or yearly. The billing cycle is not valid until your free trial ends. If you like the service, you can keep the account and you will be billed in the cycle you choose. If you are not satisfied with the VPN, you can cancel the account within three days. You won't be billed any penny.


How to Get VyprVPN 3-Day Free Trial?
All VyprVPN plans include 3-day free trial whether you choose monthly or yearly billing cycles. How to get the free trial? Firstly, you need to create an account with your name and email address to activate the free trial. Secondly, choose billing cycles for subscription after the free trial. It won't affect your decision after trial, so just choose the one you like. Thirdly, choose your plan among VyprVPN and VyprVPN premium. Fourthly, fill up payment detail. Though you need to provide payment detail, it does not charge you when you create the account. Only when you choose to keep the account will you be billed. Finally click 'Start free trial' button to proceed. Simply follow the guide to activate your account in email sent from provider.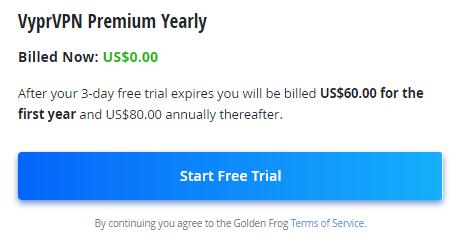 VyprVPN Plans & Promotions
Love the service after giving it a try? You can continue to use the service. The provider offers two packages with reasonable prices. They are VyprVPN and VyprVPN premium. VyprVPN allows three devices and comes all basic VPN features. It lets you choose to be billed monthly or yearly. It costs $9.95 USD a month when you choose monthly billing method. If you purchase 12 months at a time, it is $3.75 USD per month. It is 25% off. If you don't want a long subscription, pick monthly plan. It is more flexible. If you want lower price, yearly plan is recommended.
The VyprVPN premium is more expensive as it includes premium features and allows five devices. This plan includes Chameleon protocol which is a special protocol developed by their company to bypass VPN blocking. VyprVPN cloud is offered with this plan. It lets you control your own dedicated cloud VPN server. VyprVPN premium plan costs $12.95 USD a month. If you sign up one year, it is $5.00 USD per month. 25% discount is available. This plan is suitable for users who need to overcome VPN blocking to access restricted contents. It also is a great option for business. The dedicated cloud VPN server helps customers run business effectively as well as maintain security and privacy.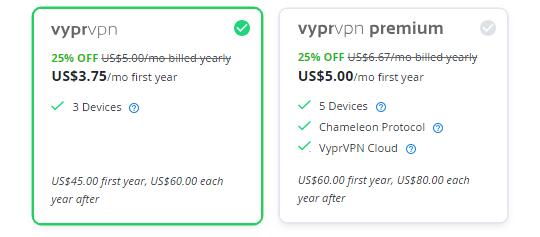 Brief Information of VyprVPN
VyprVPN is a VPN owned by Golden Frog GmbH. It is incorporated in Switzerland which is an ideal jurisdiction for privacy protection. The country respects the rights of Internet users and has favorable privacy laws. This provider owns a large network with worldwide servers. It allows unlimited server switching. Users can switch between locations at no additional charge. It offers 200,000+ IP addresses to help users spoof their location and bypass geo-restriction. It protects users' privacy and safeguards precious data when using the Internet. It secures users' connections to the Internet with military-grade encryption to prevent others from monitoring users' online activities or stealing financial information. VyprVPN has zero restrictions and no download caps. That is perfect for users who use streaming services a lot. VyprVPN provides easy-to-use apps for different systems and platforms. Their 24x7x365 support team provides instant help no matter in which country you are living. It starts from $3.75 USD per month. If you can't decide it now, get VyprVPN 3-day free trial without spending any penny.


Advanced Encryption Methods
When you use insecure network, hackers and snoopers can view what users do and collect information they use on the Internet. Information leak and identity theft can cause huge loss. VyprVPN uses AES 256-bit encryption to encrypt users' traffics. Your data is secured with 256-bit encryption key. The criminals, ISP and government only see encrypted content. Hackers will need to try thousands of combinations to crack it. So far, 256-bit encryption has not been cracked yet. When you open a website, your request is channeled to remote server you choose via secure tunnel and then sent to website you are about to visit. The result is sent to remote servers, and the VPN server sends it back to you via the same encrypted tunnel. The hackers won't be able to intercept your online session. When you connect to unknown WiFi network, the VPN encrypts your online traffics automatically. You can feel safe to check email, make online transaction and have online meeting with your partners without worrying about cyberattack or information leak.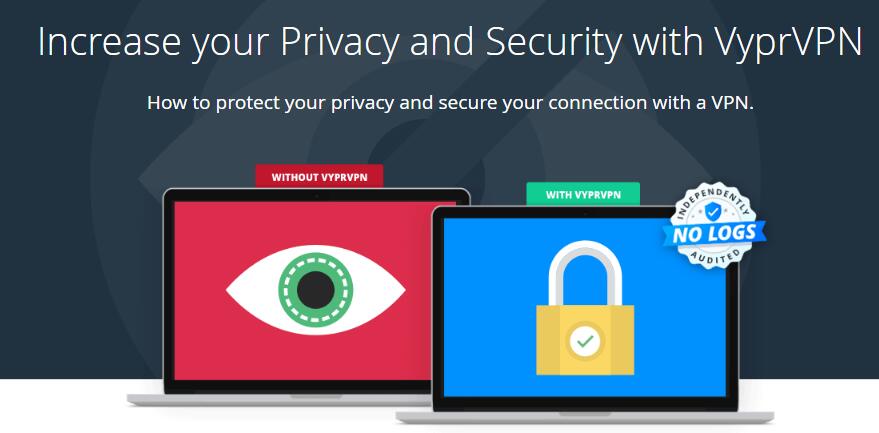 Multiple Protocols for Encryption
VyprVPN provides OpenVPN, L2TP/IPsec, PPTP and Chameleon to implement solid encryption. OpenVPN is the most popular protocol which delivers fast, secure and reliable connection for the highest performance. It works greatly on desktops including Windows, Mac OS X and Linux. If your device does not have OpenVPN tool, you can try to download third party OpenVPN client from app store. L2TP/IPsec is a great option if your device does not support OpenVPN. It uses the same encryption standard as OpenVPN does. Another advantage is that this protocol is built into most desktop, phone and tablet devices. PPTP is a fast protocol and its setup process is pretty simple. It is good for streaming services while it is the proper option for security. This protocol uses 128-bit encryption which is less secure than OpenVPN. Chameleon is a special protocol developed by this company. It is an excellent protocol which uses the unmodified OpenVPN 256-bit encryption and scrambles the metadata to prevent DPI, VPN blocking and throttling. It offers the best security, unlimited access to streaming services as well as superfast speed. Users who live in country with strict Internet censorship or want to access restricted streaming services should choose this protocol.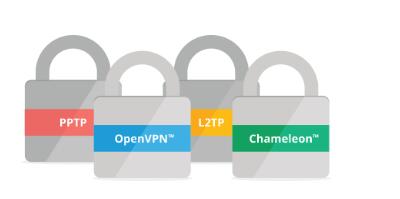 Increase Privacy & Log-Free
VPN becomes a popular tool to reclaim privacy in those days. Many parties try to monitor Internet users' activities and collect personal information for money and other purposes. Users' IP addresses are exposed when browse the website, download data or shop online. ISPs even know everything users do on the Internet. Users can't keep their browsing private as they have to rely on their ISPs' servers. VyprVPN enables users to take their privacy back by offering IP addresses and remote servers. When users' devices are connected to remote server, their IP addresses are switched to related location. The IP addresses offered by VPN provider are shared by lots of users around the world. They can't be used to identify Internet users. Your real IP address, location, personal communications, website you visit, and when & for how long you connect to the Internet keep private. In this way, hackers, snoopers, advertisers, ISPs and government can't track users or invade their privacy. Besides, VyprVPN has zero log policy. They do not log any data of your private activities. They can't share any of your browsing details with the governments or other parties as they have the data. As VyprVPN's jurisdiction is in Switzerland, they won't be forced to collect or keep your traffic logs. VyprVPN encrypts users' Internet connection so as to protect data & privacy, and stop government's surveillance. It also protects users against data retention laws.


Worldwide Server Network
VyprVPN owns over 700 servers in 70+ locations around the world and manages a global network to deliver pretty fast VPN connection. Their servers are logically distributed in many regions and countries. The VPN client comes with one-click connect and server selection. It automatically connects you to the fastest VPN server location available. If you don't need specific server for streaming, you get faster connection speed when you connect to server which is the closest to your real location. You are allowed to switch between server locations easily at no additional charge. No matter you are located in North America, South America, Europe, Asia, Africa or Oceania, you can get the best possible connection. Their expert team writes code themselves to optimize their VPN network for next level of speed and security.
VyprVPN allows unlimited bandwidth and does not limit your speed. No matter which server you are connected to, you can use the Internet without restriction or download caps. As the provider has 200,000+ IP addresses for 700+ servers in their server clusters, there is less chance you suffer overloaded server issue. Their VPN connections are always available. Sometimes, this VPN even gives you faster connection. Your ISP can choose to slow down or throttle your Internet connection when they find out you are using too much bandwidth or using certain services. With this VPN, your connection won't be throttled as the VPN encrypts your traffic. The ISP can't view your activity or bandwidth. You will be able to watch Netflix at 10x faster speed. Want amazing browsing or streaming experience? Get VypyVPN 3-day free trial to try it out.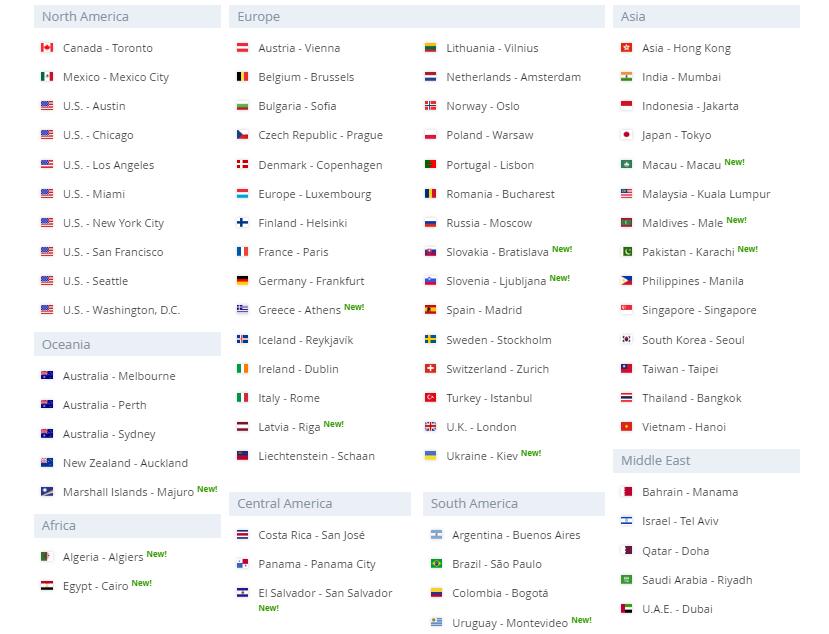 Defeat Geo-Restriction with Chameleon Protocol
As more and more users choose VPNs to fight against geo-restriction, some governments and streaming services start to block VPN protocols. They inspect, throttle and block VPN protocols via deep packet inspection. The government blocks VPN connection to take control of the information flow and streaming services block VPNs to prevent users from other countries accessing their content due to copyright issues. For example, China, North Korea, Russia, Iran, Turkey and an increasingly list of other countries utilize DPI to block Internet content they consider as "bad" and keep tabs on their citizens. Besides, famous streaming services like Netflix and BBC iPlayer aggressively reject Internet request via VPN connection. Many VPNs fail to work with Netflix. However, VyprVPN still does a great job. The remarkable Chameleon technology scrambles OpenVPN packet metadata to make sure it won't be recognized via DPI. It disguises your traffic and makes it appear like a normal connection. Likewise, it uses the unmodified OpenVPN 256-bit protocol for the underlying data encryption. Even better, it maintains connection fast and lightweight. You don't have to sacrifice security or speed for an open Internet experience. VyprVPN changes your IP address with a new one that isn't tied to your physical location. Your virtual location is changed and your data travel through remote server. Enjoy a truly open and uncensored Internet with VyprVPN. The provider has 3-day free trial, so you can try it without a risk.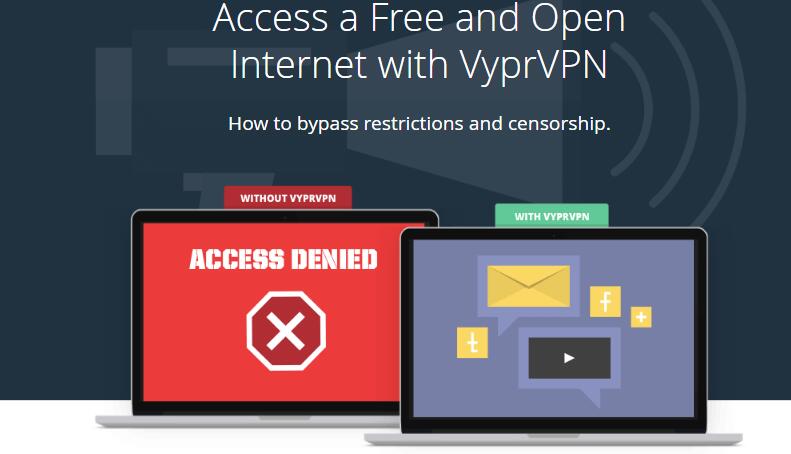 Top 10+ Best VPN Services In The World
| VPN Brands | Servers | Country | # of Connections | Price(USD) | Official Website |
| --- | --- | --- | --- | --- | --- |
| | 2000+ servers in 94 countries. | British Virgin Islands | 3 | $6.67/Month (Save 49%) | Best Choice |
| | 1,000+ servers in 60+ countries. | USA | 10 | $4.87/Month (Save 60%) | View Deals |
| | 4410+ servers in 62+ countries. | Panama | 6 | $3.99/Month (Save 66%) | View Deals |
| | 200+ servers in 70 countries. | Bulgaria | 6 | $4.18/Month (Save 50%) | View Deals |
Click Here to Read More Top 10 Best VPN Services »
Learn How to Get 3-Day Free Trial & Set up VyprVPN
Conclusion
Want VPN free trial to find a suitable service? VyprVPN offers 3-day free trial for all new users. You all have a chance to try the service for three days without paying a fee. When the free trial expires, you have choices to keep or cancel the account. If you cancel the account within the first three days, you won't be charged. If you keep the account, the prices start from $3.75 USD per month. VyprVPN is a reliable and secure VPN. It masks your IP address and connects you to remote server to bypass censorship and unblock restricted content freely. It encrypts your connection to the Internet to protect your privacy and precious information. It allows you to watch HD videos without buffer and download large size of folder at amazing speed. You can download via Torrent and P2P privately. VyprVPN offers a collection of server locations, multiple VPN protocols & VPN clients for you to choose. Besides military-grade encryption, it has NAT firewall to safeguard online users. It is an additional layer of security as it blocks unrequested inbound traffic. The firewall runs on their servers, so there is no additional configuration to do. VyprVPN is compatible with Windows, Android, Mac, ios, Blackphone, routers, QNAP, smart TV and Anonabox. The VPN app is very simple to use. The setup process is simple and it does not require special skill. Their support team is 24x7x365 available. You can contact them via email or live chat anytime when you have VPN related problem. Are you looking for a great VPN? VyprVPN is recommended. It provides a 3-day free trial and affordable price. You can try it out for three days without paying a fee. If you would like to get deal now, VyprVPN is 25% off at this time.


Published by Andrew Gonzalez & last updated on February 26, 2019 2:27 am