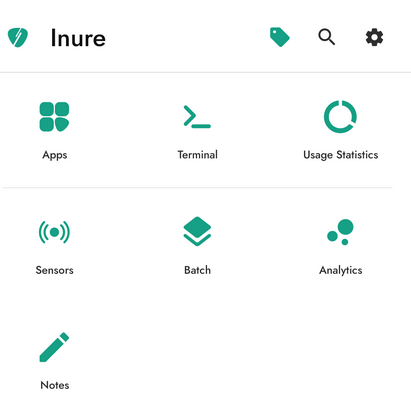 Inure
Android users must have one type of app in their devices, which is the app manager, so we can easily check the API level, app structure, and even directly control the broadcaster, permission settings, etc. The more well-known app managers are Skit, LibChecker, etc. They are all familiar products and relatively complete. Inure doesn't intend to compete with them head-on in terms of functionality, but rather to take the spotlight on the silky smooth operating experience.

Inure is a completely open source application, but of course it inherits the good tradition of open source applications, such as actively adapting the Material You design, including dynamic color picking that is fully responsive to the system color palette. All operations of the application have corresponding dynamic effects, for example, in the settings screen, each setting item chart will move smoothly, the settings list will fade out and pop up; when you click the switch button, the small white dot will have a bouncing effect.
In addition, Inure also displays progress bar animations if an option has a swipe action. To better tune these animations, Inure also has a separate action option in the settings where we can change animation types, motion switches, etc. The overall detail is so full that it's almost overflowing. Of course, Inure is not just a vase, most of the features available in Skit are also available, and it also provides terminal and shell command line support, but for more complete command line functionality you may need Root privileges.
What's interesting is that Inure allows users to enter notes to the app, and where they type is surprisingly an editor that supports text formatting, such as the ability to bold, italicize, adjust colors and even up and down corner marks. According to the roadmap provided by the developers, Inure once also planned to support audio playback, and later would also improve the dedicated text editor, which shows its great ambition.
Overall, Inure gives me the impression that it's more of a benchmark for other apps in terms of motion, letting users know that not only does the style design need to look good, but the motion is also important. If you'd like to experience this silky smooth app manager, you can download Inure on Google Play, GitHub, F-Droid, and IzzyOnDroid.
Brethap
As more and more people pay attention to their physical and mental health, they are trying to take a break from the stress of work and life and focus on various ways to look inside themselves. Brethap is an app that helps us control our breathing during meditation.
If you are using an Android phone and don't have an additional smartwatch, Brethap can be used as an application for meditation. If you are using an Android phone and don't have a smartwatch, Brethap can be a great tool to help us control our breathing during meditation or meditation, but even if you have a smartwatch, you can use the Wear OS version of Brathap.
Brethap allows us to set up 5 different breathing protocols, each of which can be named to facilitate the subsequent selection of the corresponding protocol. For each protocol, Brethap allows us to set the inhalation time, the breath-hold time and the exhalation time.
Since Brethap is mainly used on the cell phone, each inhalation and exhalation alert can be directly sensed by vibration unlike the watch, so if you don't want to hold your phone during the breathing process, Brethap also supports customizing the sound of various reminders.
Brethap also has a built-in statistics function, through the built-in calendar, we can clearly see which day we did breathing training, the total number of times the breathing training was carried out that day, and how long each time is. You can download and experience Brethap through the Play Store or F-Droid, which is a more streamlined version.
Unread 3.3
Unread, as an old RSS reader, is one of the more conservative iterations among the competitors. However, in the recent 3.3 update, Unread also added the ability to add web articles, which is equivalent to an additional Read It Later module. In addition, Unread has also added an adaptation to the recently released Readwise Reader, so that all articles can be added directly to Readwise Reader via Article Action.
There are two ways to add web articles to Unread. The first one is through the system's share menu, in Safari, Edge or other third-party applications, you can save the article by "Save to Unread" in the share menu; the second one is to long click on any web link in Unread and click "ADD TO SAVED ARTICLES".
When a web article is saved to Unread, the location where it is saved will vary depending on the service you are using. If you are using Unread Cloud, Local Account or NewsBlur, then the web articles will be saved in the SAVED ARTICLES column; if you are using Feedbin, then the web articles will be saved in the Pages column; if you are using Feedly, then the web articles will be saved in the READ LATER column.
Readwise Reader is a read later tool launched by Readwise at the end of last year. Unread has added the Readwise Reader article action in version 3.3, which allows you to push articles from Unread to Readwise Reader in one click.
Before you can use this article action, you need to enable the Readwise service via SETTINGS > ARTICLE ACTIONS. The service needs to be verified by a token, which can be obtained by clicking GET ACCESS TOKEN to jump to the corresponding page, and then copy and paste it into Unread.
There are several ways to use the Readwise article action; the first is to long press any article in the article list, the second is to long press a web link in any article, the third is to swipe left in any article, and the fourth is to use the external keyboard keyboard shortcut ⌥ Option+R to select the "Readwise" action in the pop-up menu.
Unread is available as a free download on the App Store, and free users have access to the basic features of RSS subscription and reading. With Premium membership, you can unlock premium features such as custom widgets, article shortcuts, caching web text and images, custom icons, saving web articles, and more.
Craft
Craft also ushered in the first version of the update, the update is divided into four new features.
The first is Page Break, which translates to "page break," an automatic page turning feature that automatically breaks the document into multiple pages based on page size when you share your Craft document with others or just export it as a PDF. The update also adds more than 20 new features to Craft on both the Web and Windows clients: including updates to the side tabs, document search optimizations, and improvements to the header display. The fourth is a display error in the Craft font on macOS Ventura that has been reported by some users, which is also fixed in this update; finally, there are four other minor feature updates/improvements, and bug fixes. Details can be found in the changelog. You can find the download links for each platform version of Craft on the Craft official website.
Coherence X (macOS): updated to v4.3, now supports creating Coherence apps using any URL, automatically blocks new windows in apps with extensions installed, and improves the editing tab in existing apps.
Files (Windows): Updated to v2.4.26.0 preview, added tabbed widgets to support tagging and grouping of files and folders for viewing.
PowerToys (Windows): Updated to v0.67.0 with a new quick access panel placed in the system tray and an option to browse results via tabs in PowerToys Run.
Raycast (macOS): Updated to v1.47.0, bringing support for in-app deep linking.
Published by YooCare Editor & last updated on February 8, 2023 9:11 am