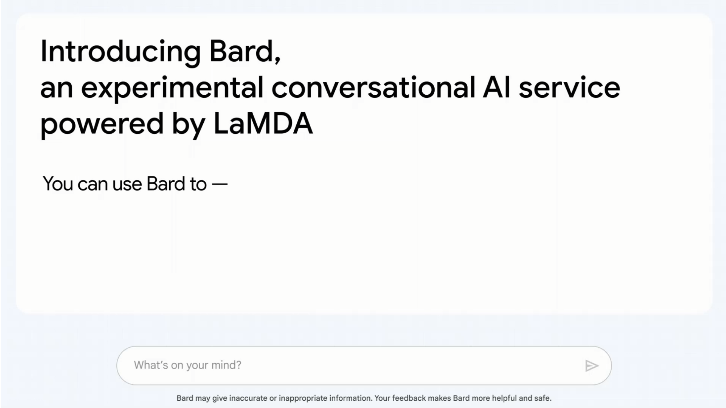 Google Announces Bard, an AI Chatbot
On February 6, Google released The Keyword blog, where CEO Sundar Pichai announced Bard, an AI chatbot powered by LaMDA (Language Model for Conversational Applications). Google will open Bard to trusted testers today and expects to make it available to the public in the coming weeks. The current release of Bard uses a lighter version of LaMDA that requires less computing power and can be opened up to more users to gather feedback. Google expects to make Bard responses based on real-world information that meets high standards of quality and security. The AI engine will also be introduced into Google search in the future.

Twitter Subscription Service Exceeds 290,000 Users in Two Months
In mid-January, Twitter's paid subscriptions, including Twitter Blue, surpassed 180,000 in the U.S., or about 0.2 percent of monthly active users, and the U.S. accounted for 62 percent of global subscriptions, or about 290,000 paid users worldwide, according to The Information. The Information believes this small number indicates that Elon Musk is facing a big challenge in turning his subscription product into a major revenue generator.
Faraday Future Raises $135 Million
On February 6, Faraday Future announced the final agreement for a series of financing rounds that, when successfully executed on time, will raise all necessary funds to begin production of the FF 91 Futurist. Faraday Future will host an extraordinary general meeting on February 28 and, if it receives all of the financing as expected, will begin mass production of the saleable FF 91 Futurist by the end of March 2023, with production rolling off the production line in early April and delivery by the end of April.
Dell to Lay off 6,650 Employees Worldwide
Dell has announced a 5 percent global layoff of 6,650 employees due to declining demand for personal PCs. In a previous memo, Dell co-chief operating officer Jeff Clarke said that previous cost-cutting measures, such as a hiring moratorium and travel restrictions, have proven insufficient and that the company is currently experiencing market conditions that are "uncertain and will continue to shrink. The previous IDC analysis mentioned that Dell's holiday season sales were down 37 percent compared to last year. Strategy Analytics reported that tablet shipments declined more slowly in the fourth quarter of 2022 than in the past five quarters, falling just 8 percent to 44.2 million units. Full-year shipments were down 12 percent year-over-year to 162 million units. This may be related to wars, economic fluctuations and the fall back from the highs of the disease epidemic.
According to Notebookcheck, the Samsung Exynos 2400 processor will begin mass production with samples to be delivered by June 2023, and it is Samsung's largest chip to date with an area of 130 square millimeters and an AI performance of 44 TOPS. The CPU part of the Exynos 2400 is rumored to have a 1+2+3+4 quad-cluster architecture, including a very large core (Cortex-X4), two large high-frequency cores (Cortex-A720), three large low-frequency cores (Cortex-A720) and four small cores (Cortex-A520), for a total of 10 cores in a 4LPP+ manufacturing process.
According to Notebookcheck, Qualcomm's fourth-generation Snapdragon 8cx won't ship until 2024, but the manufacturing process will still be TSMC's 3nm process. The 4th generation Snapdragon 8cx has 12 cores in the CPU section, with 8 performance cores up to 3.4GHz and 4 custom designed efficiency cores up to 2.5GHz. Qualcomm has tested engineering samples and all 12 cores can run up to 3GHz. Compared to the default specifications, the performance core is 400MHz lower and the efficiency core is 500MHz overclocked.
Published by YooCare Editor & last updated on February 8, 2023 8:38 am