Can't uninstall Avast Free Antivirus from PC? Has been stopped by errors when trying to uninstall Avast Free Antivirus? You are not the only personal who have those problems. For some reasons, you may try to uninstall the antivirus. Commonly, it is more difficult to uninstall antivirus software than removing normal app like Facebook and YouTube. Due to its software configuration, it gains more permission and adds more files on your system. How to correctly uninstall Avast Free Antivirus? Read the step-by-step guides in this article.
Avast Free Antivirus Introduction
Avast is one of the most famous security software providers. It provides excellent advanced cybersecurity to protect users' PC and mobile devices against viruses, ransomware, malware, spyware, worm, zero-day threats and phishing network etc. There are personal and business products to choose. To let all users try their service without taking a risk, the provider offers Avast Free Antivirus. That means you can try the software and test the features without spending a penny.
Avast Free Antivirus comes with real-time protection and intelligent threat-detection to safeguard your network, passwords, and browser. Many users consider it as a very useful tool. It is light and simple. However, some users think the software is not powerful enough. As it is free to use, it comes with limited features. For example, the free antivirus may not be able to detect and stop the latest ransomware. The ransomware has been updated every day and can bypass weak antivirus easily. Besides, the free antivirus only scans, detects and warns of an issue. To fix issues, you need to locate and remove malicious programs manually. Therefore, some of you may choose to upgrade to the premium version or switch to another security product.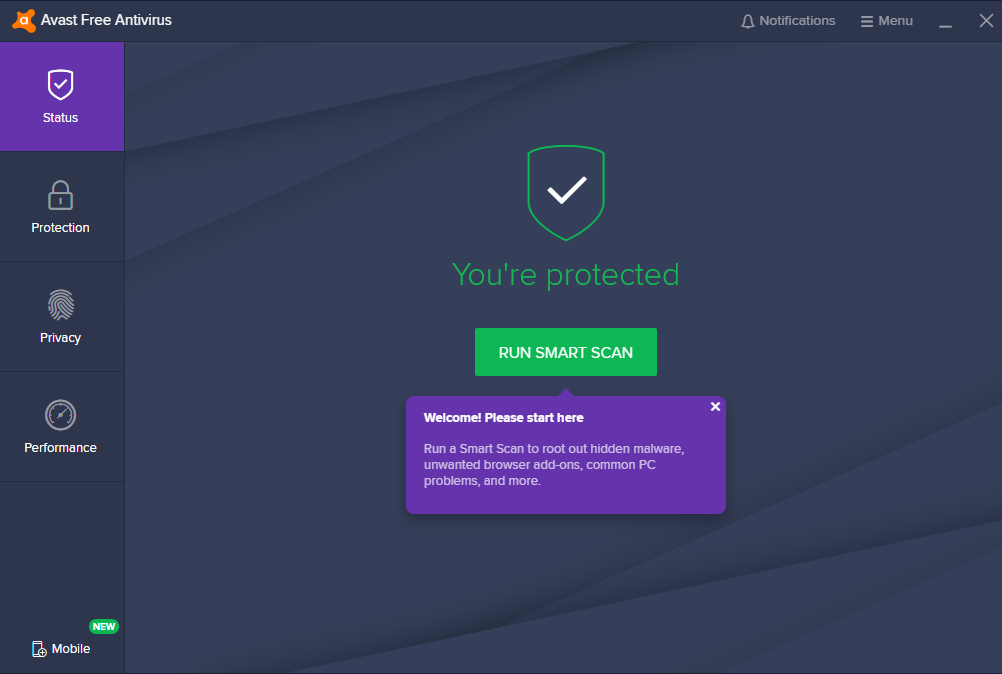 Have Problems with Avast Free Antivirus?
Despite being a popular security program, some users decide to uninstall Avast Free Antivirus as they had unpleasant experience with it. According to users, the software scans the PC automatically and displays issues, but it does not offer solution to fix the problems. Some users find out that their PCs freeze frequently and some software fail to work after they install the software. It is because they may install some software that is not compatible with the antivirus. For example, users may not be able to access the Internet properly due to firewall issue. Besides, Avast Free Antivirus can cause software conflicts if there are Malwarebytes and other similar program on the system. In this way, the antivirus won't be able to protect users' PC properly. It even interrupts users' work or study when using the PC. Some users decided to try the product starting with the free antivirus, but they found that it is not the service they want. However, some users can't completely uninstall Avast Free Antivirus from their PCs.
Fail to Uninstall Avast Free Antivirus?
A number of users left messages on our website, telling they can't uninstall Avast Free Antivirus and requesting effective removal solution. They saw different errors and failed to finish the uninstalling. The Windows default uninstalling feature fail to remove famous antivirus software due to different reasons. Let's learn the main problems users may meet when trying to uninstall Avast Free Antivirus. Sometimes, the default system Add/Remove Programs does not display Avast Free Antivirus on the uninstall list. Sometimes, the software is on the list, but the uninstall button is grey. When you click the uninstall button, nothing happens, and it won't uninstall the software.
Sometimes, errors pop up in the middle of software uninstalling and end the process unexpectedly. Some users are told that they do not have sufficient permission to uninstall the software. After they use Admin rights to proceed, they also see "could not enumerate the objects in the container" or "Can not change owner of AVAST" error message. They still don't have the correct authority to uninstall it though they are the Administrator. Sometimes, Avast Free Antivirus can't be uninstalled as it had been installed incorrectly or has been corrupted by malicious programs. Due to configuration error, the software won't uninstall. It may require users to reinstall the software to uninstall. However, they are told that the software is already installed when they are about to reinstall.
Some users are able to uninstall Avast Free Antivirus, but they still see its files on hard drive. After they restart the PC, the antivirus comes back. It is because the software has not been completely uninstalled. If you use Windows uninstall feature to remove a piece of software, there are always leftovers. Every time you uninstall a program, the leftovers pile up and waste lots of space on hard drive, slowing down the PC. There may be thousands of useless files and registry entries left on your hard drive. Even worse, the leftovers stop you from uninstalling some antivirus. It is necessary to uninstall software and clear leftovers completely.
How to Uninstall Avast Free Antivirus from Windows 10?
Don't know how to uninstall Avast Free Antivirus completely? Don't worry. We provides both manual and automatic solutions to help you remove the software completely. The manual solution suits users who have rich experience in dealing with computer issues. There are two parts to go through. The automatic solution is easier. You only need to follow the wizard with few clicks to uninstall the software. Both of the solutions work.
Option 1: Uninstall Avast Free Antivirus Manually
As some users can't find the software on Start Menu or Settings, we provide three methods for the part one. Choose any method you like. In part two, you need to deal with Registry Editor. It requires computer skills and patience to finish the task.
Part 1: Uninstall Software
Method 1: Uninstall from Start Menu
Step 1: press Windows key on keyboard to open Start menu.
Step 2: look for Avast Free Antivirus, and right click its icon. Click Uninstall button. It will open Windows uninstall feature.
Step 3: select Avast Free Antivirus and click uninstall button on the top. Confirm and finish the uninstalling.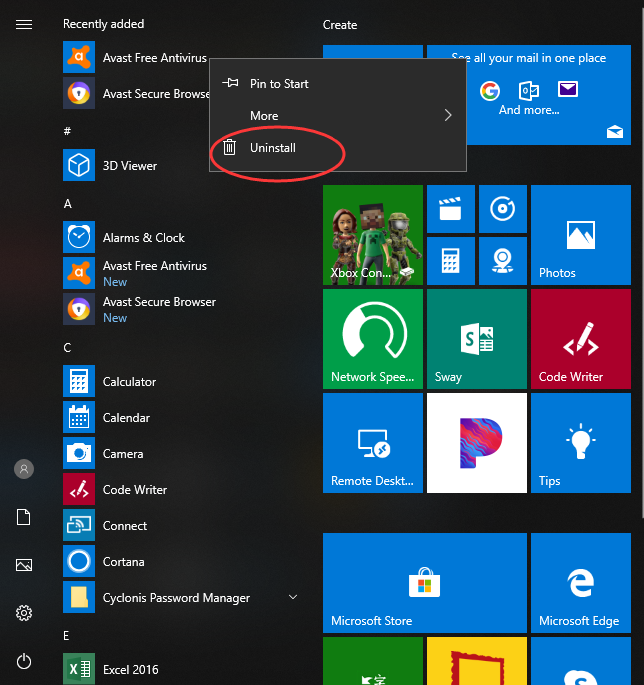 Method 2: Uninstall from Settings
Step 1: press Windows key and click Settings icon at the left on Start menu.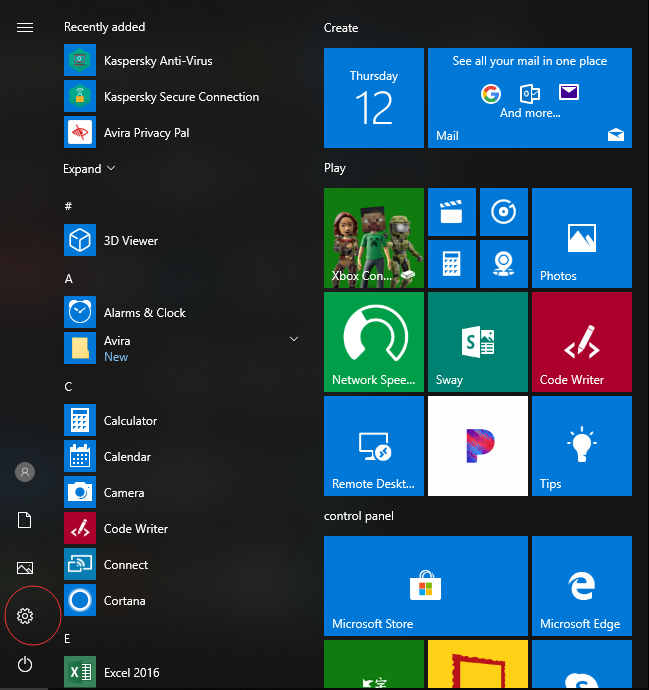 Step 2: click App menu and select App & Features.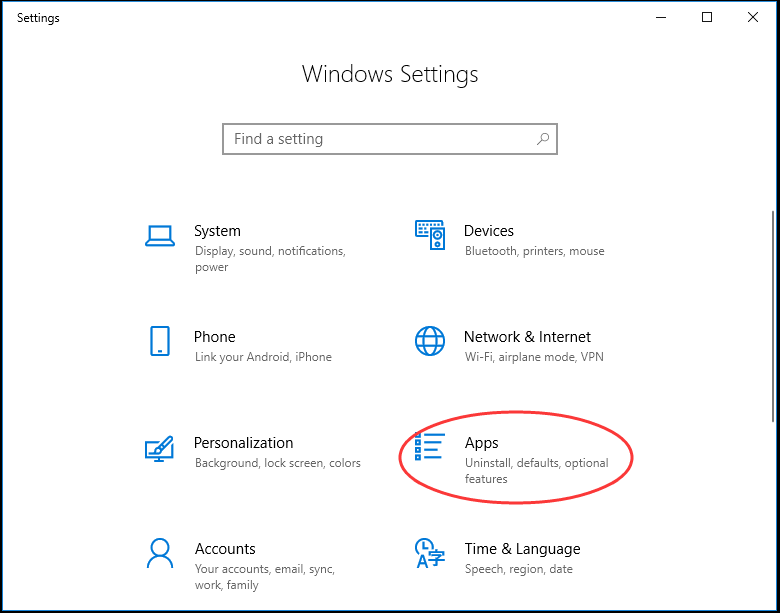 Step 3: select Avast Free Antivirus, and a menu will pop up at the right side. Click Uninstall option, and then "Yes" to perform uninstalling task.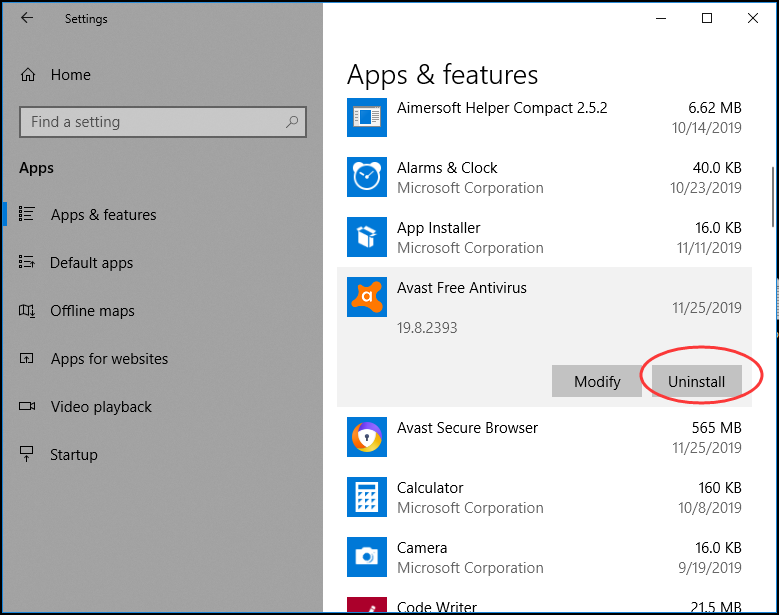 Method 3: Uninstall from Control Panel
Step 1: type "control panel" in search box on taskbar. Click and open control panel.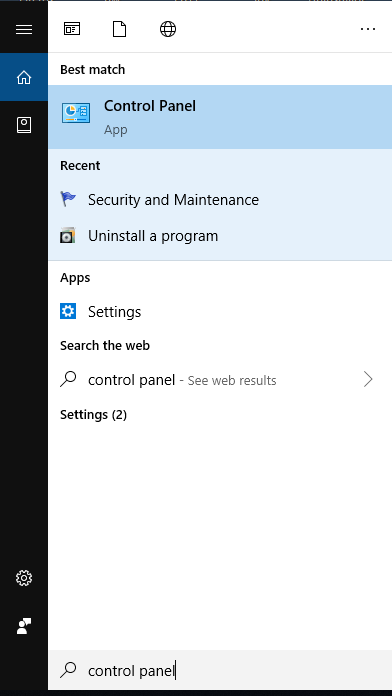 Step 2: click "Uninstall a Program" under Program menu.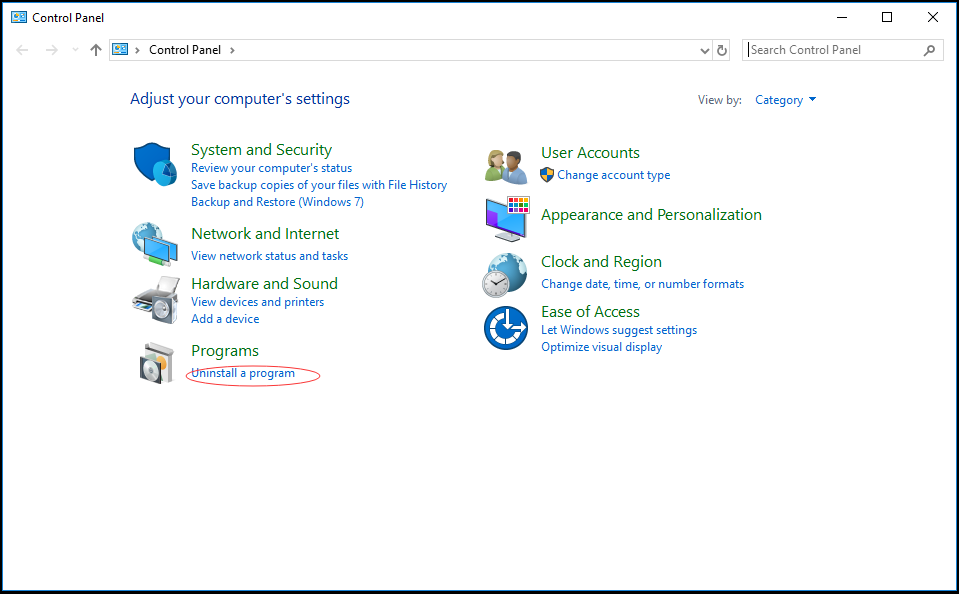 Step 3: locate and select Avast Free Antivirus. Click Uninstall button on the top. Click "Yes" when it asks if you are sure to uninstall the software.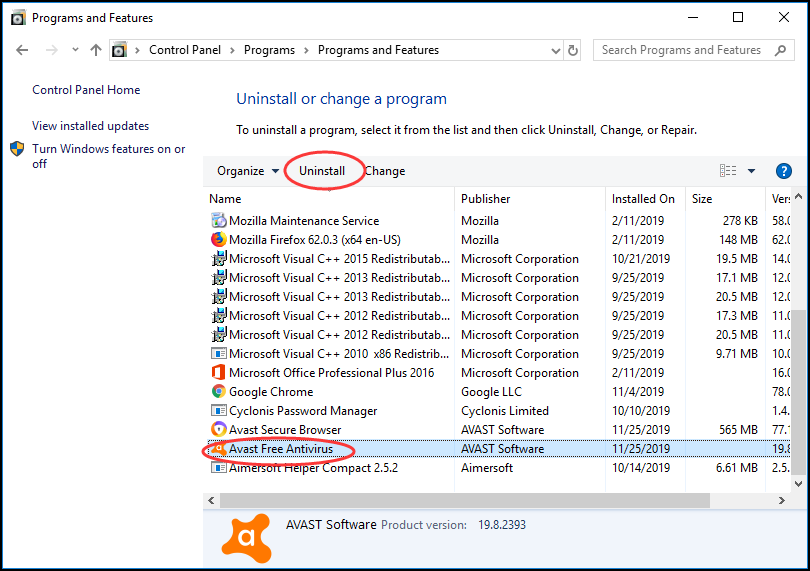 Part 2: Clear Avast Free Antivirus Leftovers
After you uninstall Avast Free Antivirus software, there are registry data, app data and other files left on your PC. Sometimes, those data can bring back the software after the uninstalling. The leftovers can stop you from using some software and slow down the PC. To clean leftovers, you especially need to remove registry entries and app data. What are registry entries? Registry is a place on your PC which stores information required by the Windows. Once you install the software, the information including everything from expiry date of software as well as your personal theme settings exist on the system. After you use Windows Add/Remove Programs to uninstall software, you need to clean up the invalid and damaged registry keys manually.
First of all, press Windows + R combination keys to open Run program.
Secondly, type in "regedit" and click "OK" to continue. It will open Registry Editor.
Thirdly, press Ctrl + F to open search box to look for all files and folders related with Avast Free Antivirus. Remove them one by one.
Fourthly, open "My PC" to search for Avast Free Antivirus. Delete all founded data. Now Avast Free Antivirus should be completely removed from your PC.
If you are not good at computer, we do not suggest you edit or delete any registry keys yourself. If you remove the system files by mistake, it can cause vital issue like system crash. If you insist to do it yourself, remember to back up the registry data before you start in order to avoid data loss.
Option 2: Uninstall Avast Free Antivirus Automatically
If you think the manual solution is too complicated, you can use a third party uninstaller like Uninstallor. Simply follow the wizard with few clicks, and you will be able to uninstall Avast Free Antivirus completely.
Firstly, install and run Uninstallor on your PC. Uninstallor is powerful and yet light, and it will work smoothly on your PC. Once you run it, it loads all software you install on the PC.
Secondly, look for Avast Free Antivirus among the app list. Select it and click "Analyze Now" button.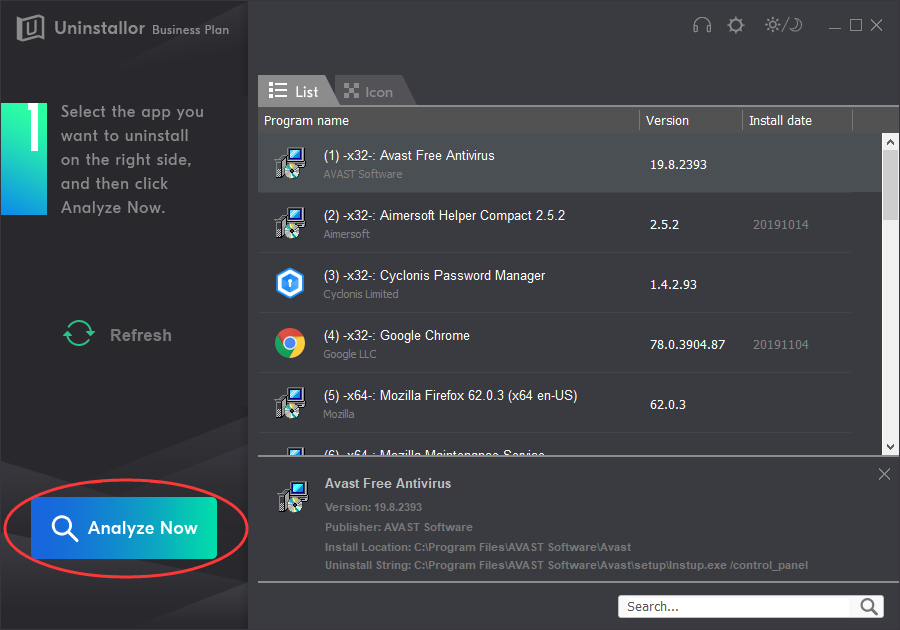 Thirdly, click "Uninstall Now" button after it finishes analyzing and displays detail of the software.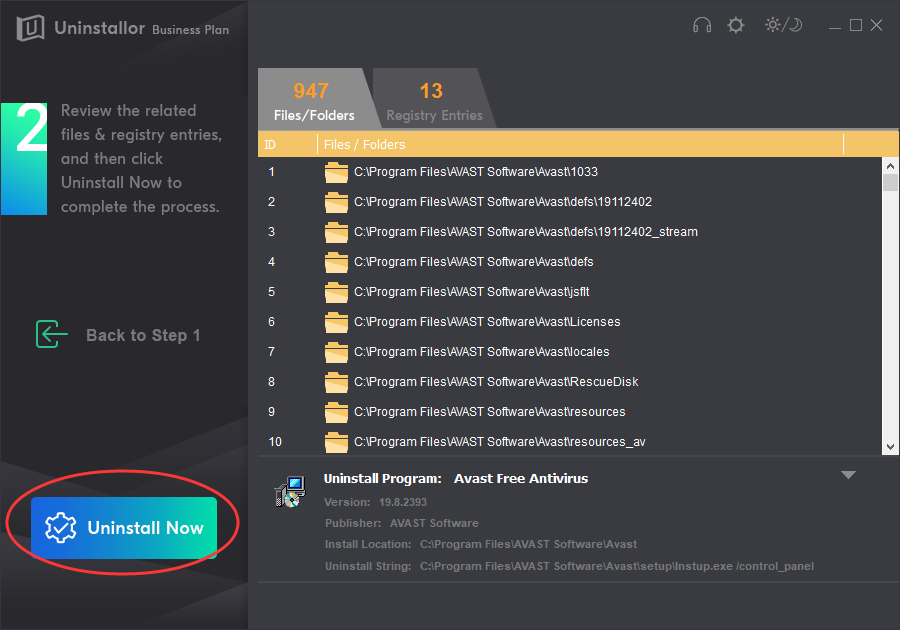 You will need to wait for a while to let it uninstall software locate leftovers for you.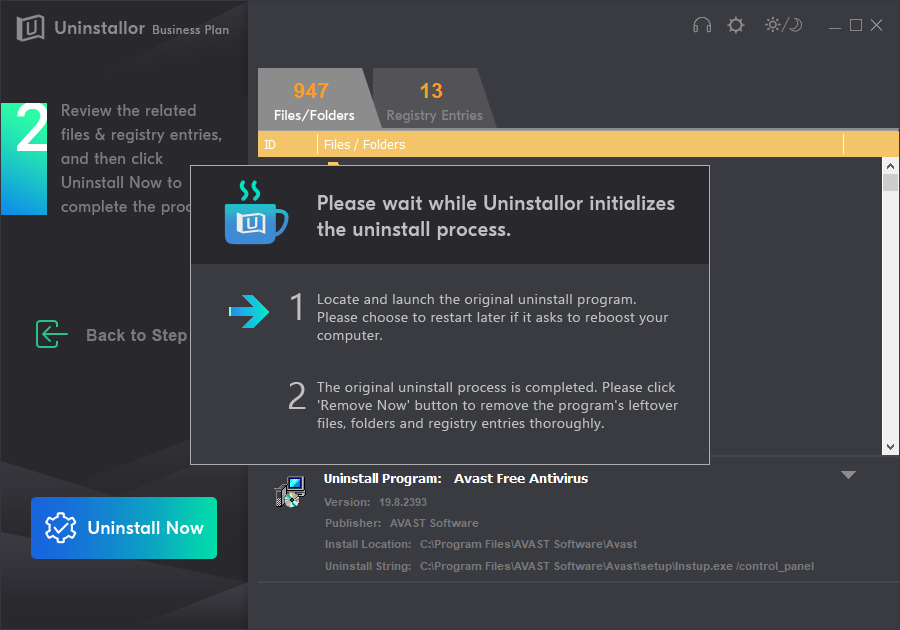 Fourthly, click "Remove Now" to clean leftovers automatically. There is no need to locate and delete leftovers manually. Avast Free Antivirus is now completely uninstalled.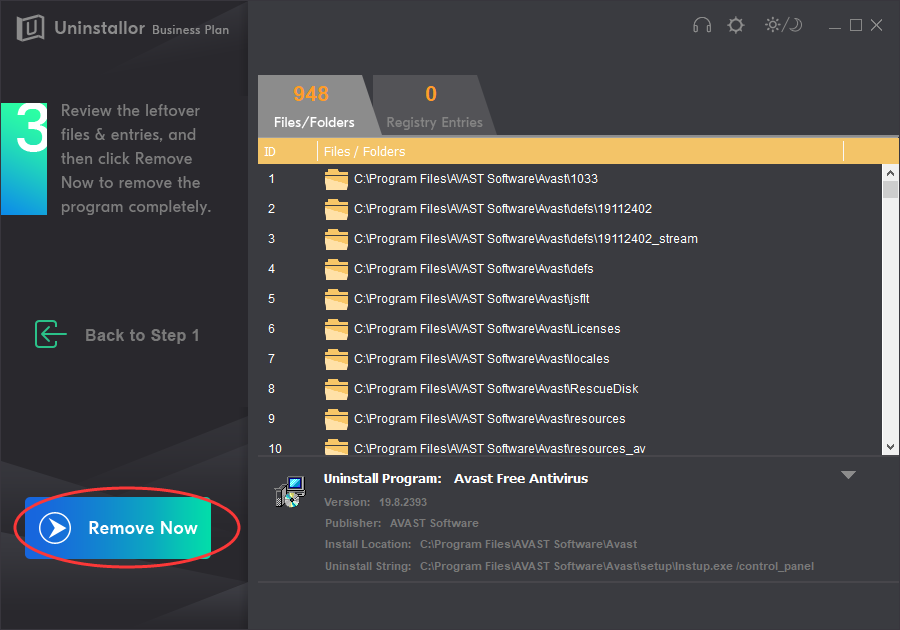 Video Guides to Uninstall Avast Free Antivirus
Conclusion
There are two solutions to uninstall Avast Free Antivirus. Mater users can choose manual solution. If you are not sure you can finish this task successfully, you can contact computer experts for help or use Uninstallor to do the job for you. No matter why you try to uninstall Avast Free Antivirus, remember to keep one security software on your PC. Don't leave your PC without protection. After all, the viruses and malware can hide anywhere and attack your PC easily when it is not protected. Uninstallor is an excellent utility which is able to uninstall various kinds of stubborn software. If you are an Uninstallor user, you also can use the custom fix solution and contact their support team for help. Still struggling when uninstall antivirus software? Get Uninstallor, and all problems will be fixed.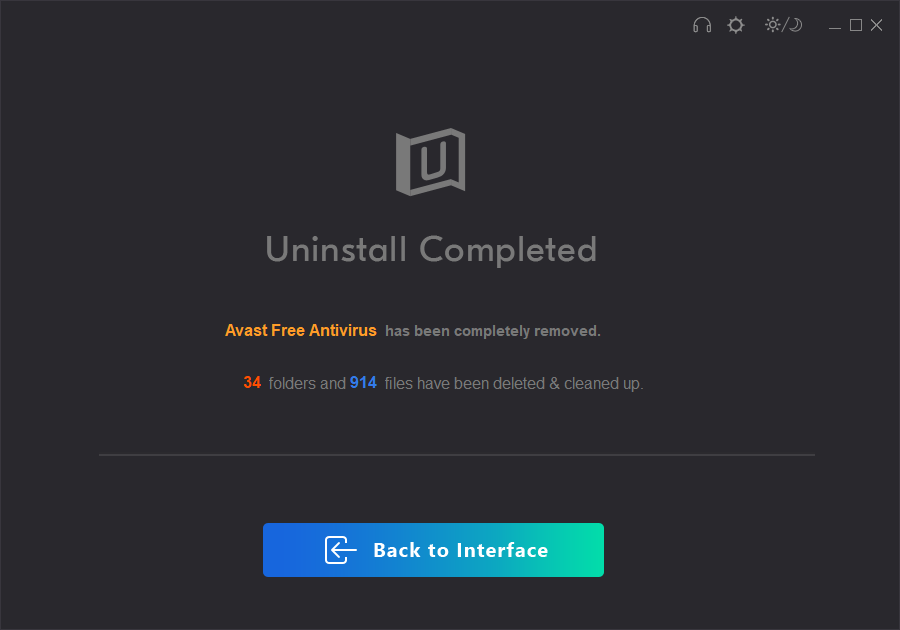 Published by & last updated on January 8, 2020 4:09 am