How do you guys uninstall F-Secure Anti-Virus from Windows 10? My license is expired, and I decided to switch to another product that my friend recommended. However, F-Secure Anti-Virus stops me from installing the new product. It tells it is not compatible with the new antivirus. I tried to uninstall F-Secure Anti-Virus because I already purchased the new license. The problem is it won't let me uninstall it. Weird errors popped up all the time. How to uninstall F-Secure Anti-Virus properly? Please help.
Brief Information of F-Secure Anti-Virus?
Found in 1988, F-Secure is one of the oldest brands in the cyber security industry. The company has rich experience and own core technology to protect users from cyber threats. F-Secure Anti-Virus is a famous and advanced security program. It is equipped with solid detection and protection technology which stops and remove various kinds of cyber threats, including virus, spyware, worms, malicious ad & email attachment, malware and ransomware etc.
F-Secure Anti-Virus supports automatic update. Once the company detects new threats and add new features, the anti-virus software will be updated automatically. That ensures users' device are always protected against from the latest cyber threat. If users' PCs had been infected, the anti-virus can help users remove the virus. F-Secure Anti-Virus allows users to protect multiple devices with certain plan. The company provides free trial to let all users try the product free for 30 days.
Have Problems with F-Secure Anti-Virus?
Despite being a decent security product for both Macs and Windows PC, F-Secure Anti-Virus may sometimes cause problems on the system. Some users complain that the program slows down the PC startup and system. As it is a big-size and advanced security software, there are a lot of files and configurations when users install it on PC. For example, it creates executable files like fsadminsettings.exe, fsuninstall.exe, DLL files fs_ccf_guts2_plugin_32.dll, fs_ccf_settings64.dll once it is installed. There will be app data, registry entries and other data related with F-Secure Anti-Virus. Therefore, it takes a long time to start the PC. When they try to perform a task or load a website, they have to wait for a long time. The PC freezes frequently when they work or paly video game. Things goes worse with users who have another anti-virus program. There will be software conflict, and users see various kinds of errors and fail to install new software. Some users decide to uninstall F-Secure Anti-Virus as they need more space on the PC or can't install some software that they need for work. Some users think their Windows Defender is enough for their, so they decide to remove F-Secure Anti-Virus when the free trial expires. However, some users have problems when trying to uninstall the software.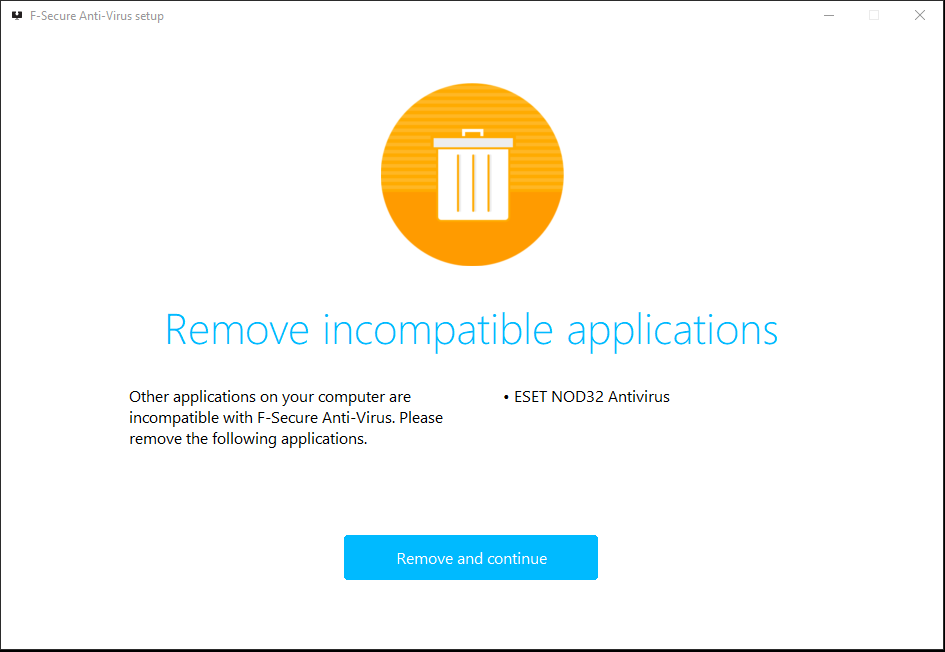 Common Problems When Uninstalling F-Secure Anti-Virus?
Due to different reasons, a large number of users fail to uninstall F-Secure Anti-Virus. Let's list the common problems.
Firstly, some users can't find F-Secure Anti-Virus on Start menu or in control panel. The F-Secure folder seems to be hidden deep in the operating system. They don't know where to uninstall the software. Occasionally, some software miss from control panel, so you can't use the uninstall button in control panel. It is because the software provider makes it difficult to uninstall or the software has been corrupted.
Secondly, the uninstall button won't work in control panel and settings. After you select the software in settings or control panel, you may find out that the uninstall button is grey. When users click on the button, nothing happen. The uninstalling won't get started.
Thirdly, unknown errors pop up and the uninstalling stops suddenly. No matter how many times you try, the uninstalling process won't finish. You may be told that you don't have sufficient permission to uninstall the software even though you are the administrator user. The software cannot be uninstalled if it has been corrupted. A file required for this uninstallation to complete could not be run. You need to reinstall the software. However, the software won't install as there is an old version on the PC.
Fourthly, there are leftovers after the removal. Though you can use Windows Add/Remove Program to go through the uninstalling process, they still see the software or icon on the PC. There are app data, registry entries and other data on the system, slowing down the PC. It is because the Windows uninstall feature only remove the program's installation folder from the PC. It is important to take a proper way to totally remove the software. If you have one of those problems when uninstall F-Secure Anti-Virus, simply follow our guide to finish the uninstalling with few clicks.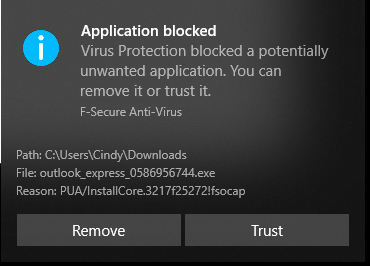 How to Uninstall F-Secure Anti-Virus Completely?
Can't remove F-Secure Anti-Virus from your PC? Still see F-Secure Anti-Virus files and folders on PC after the uninstallation? You may use the wrong method or miss some steps. To help you uninstall the software successfully, we provide both manual and automatic solutions. The manual solution suits users who have rich experience in dealing with system files and computer issues. As users need to edit the Registry during the process, it requires some computer skills to finish the task. If you are not good at computer and expect a more effective method, you should try the automatic solution. It will be done within one minutes. Choose any solution you like.
Option 1: Uninstall F-Secure Anti-Virus Manually
We provide three methods to uninstall the executable programs as some users can't find the location of F-Secure Anti-Virus program.
Method 1: Uninstall from Start Menu
Step 1: press Windows key to open Start menu.
Step 2: scroll down and find F-Secure Anti-Virus. Right click it and select uninstall option. It will open Windows uninstall feature.
Step 3: select F-Secure Anti-Virus and click uninstall button. Follow the wizard to finish the uninstall process.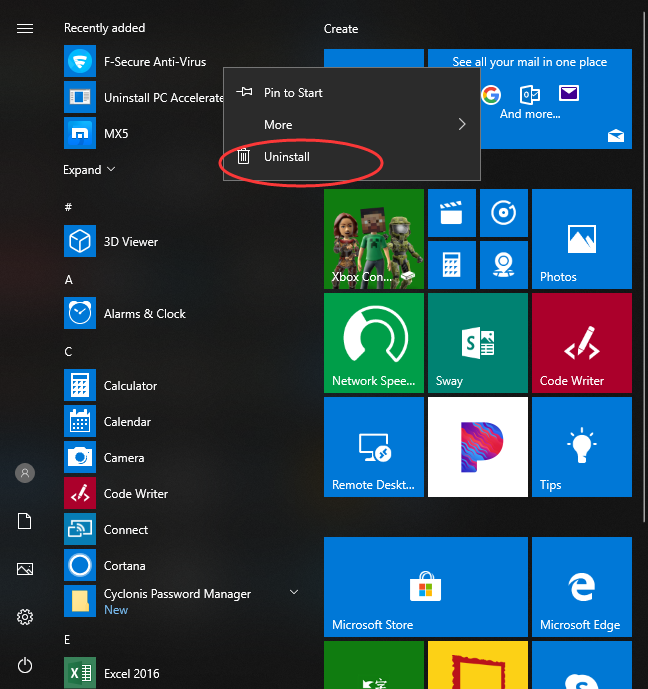 Method 2: Uninstall from Control Panel
Step 1: type "control panel" in search box on taskbar. Click "control panel" on the popup list.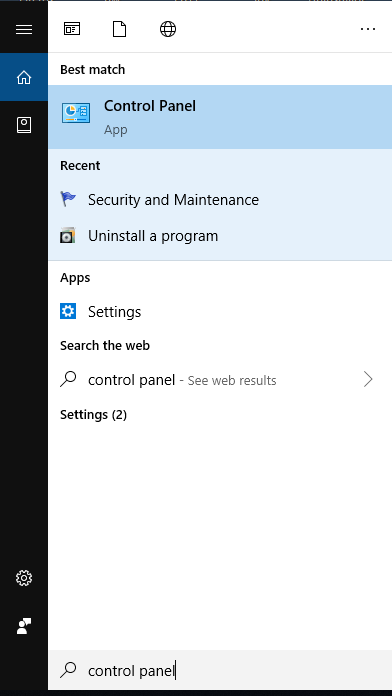 Step 2: click "Uninstall a Program" under Program menu.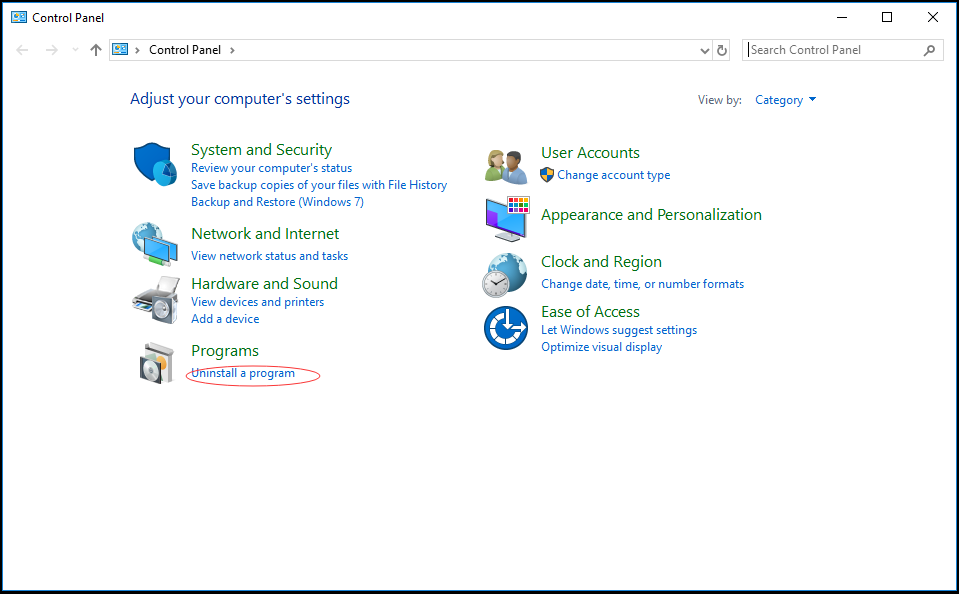 Step 3: select F-Secure Anti-Virus and click uninstall button on the top. Click Yes to confirm the uninstalling task.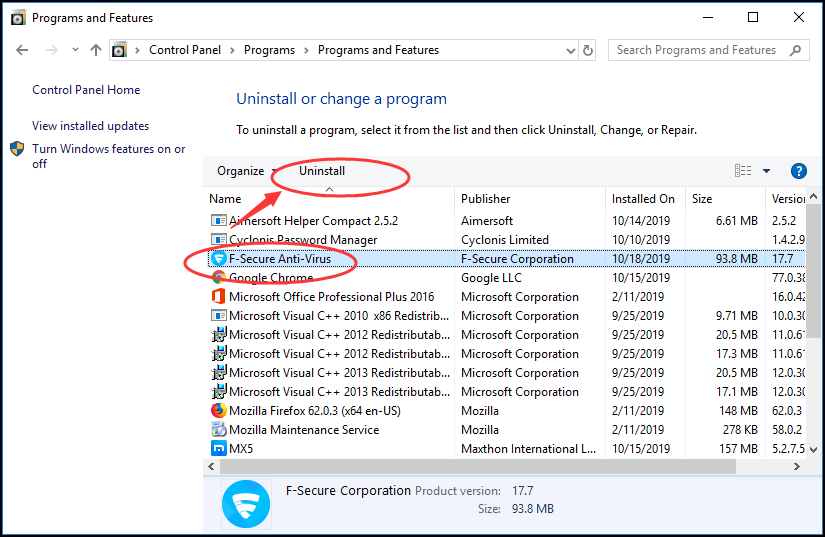 Method 3: Uninstall from Settings
Step 1: click Windows icon at left bottom, and click Settings icon on the menu.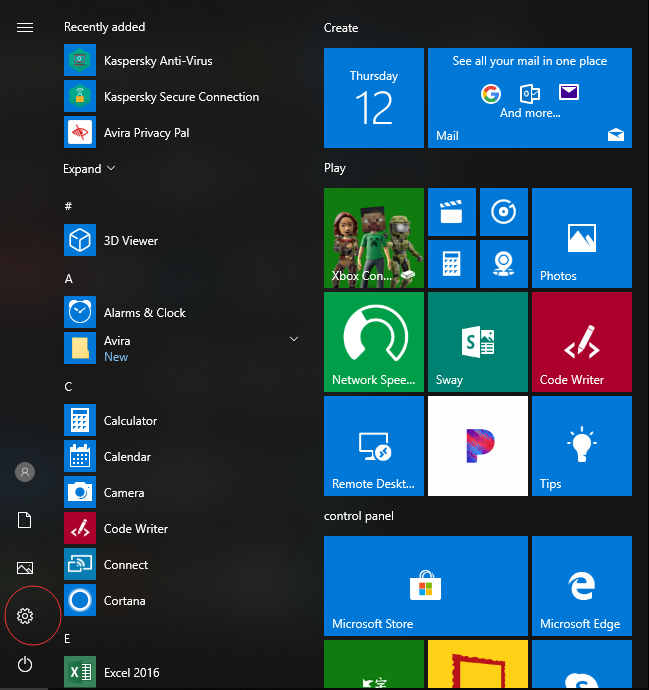 Step 2: click App menu, and select App & features option. You will see the list of your installed software.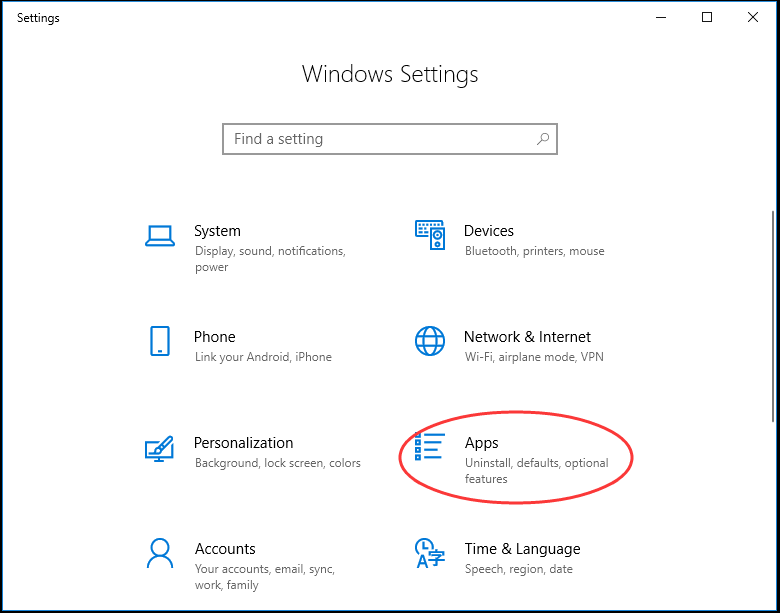 Step 3: click F-Secure Anti-Virus and select uninstall option when a menu pops up at the right side. Click yes, and follow the wizard to uninstall it.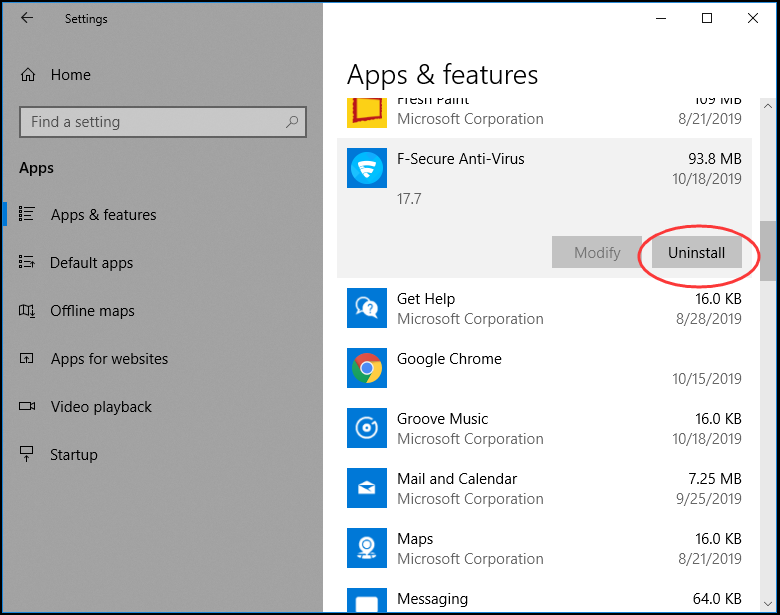 Guides to Clean F-Secure Anti-Virus Leftovers
The removal is not finished yet. Usually, the Windows uninstaller is limited in removing anti-virus software and neglects some files in different locations. The remnants will pile up every time you uninstall a program. They even cause software conflicts and stop you from using some system programs. Hence, it is necessary to clean the leftovers manually after he standard removal. You need to be very carefully when editing Registry. If you remove the wrong files, it may cause system crash, blue screen and other vital system problem. To avoid this problem, you can back up registry data before you get started.
Firstly, press Windows + R keys to open Run dialog.
Secondly, type in "regedit" and click "OK" to open Registry Editor.
Thirdly, press Ctrl + F key and type "F-Secure Anti-Virus" to find out all related files and folders. Delete them one by one.
Lastly, search for F-Secure Anti-Virus app data on your hard drive. Remove all of them. Now, F-Secure Anti-Virus should be completely removed from your PC.
Option 2: Uninstall F-Secure Anti-Virus Automatically
If you think the manual solution is too complicated and takes you a long time, you can use an uninstaller to carry out the task automatically. Uninstallor is the tool you need. It helps you uninstall the software and clean the leftovers with few clicks. It does not require special computer skill to uninstall the software completely. The program is lightweight and includes clear wizard to let you finish the task smoothly and successfully.
Firstly, download and install Uninstallor. Type in license key to get started with the program.
Secondly, it loads all software you installed automatically when you run Uninstallor. Select F-Secure Anti-Virus and click Analyze Now button at left side.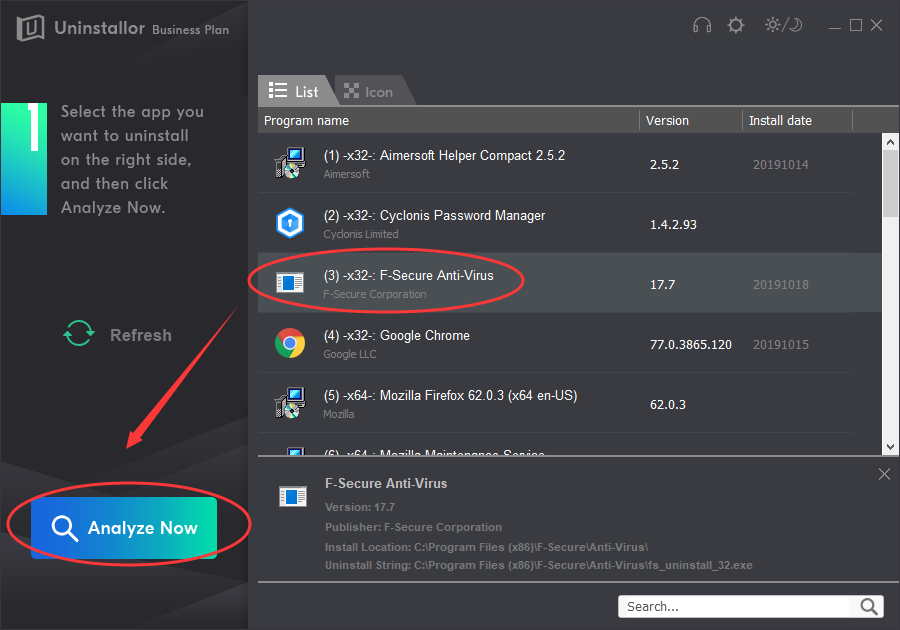 Thirdly, after it finishes analyzing, click Uninstall Now button. It will uninstall the software locate all related files on the PC automatically.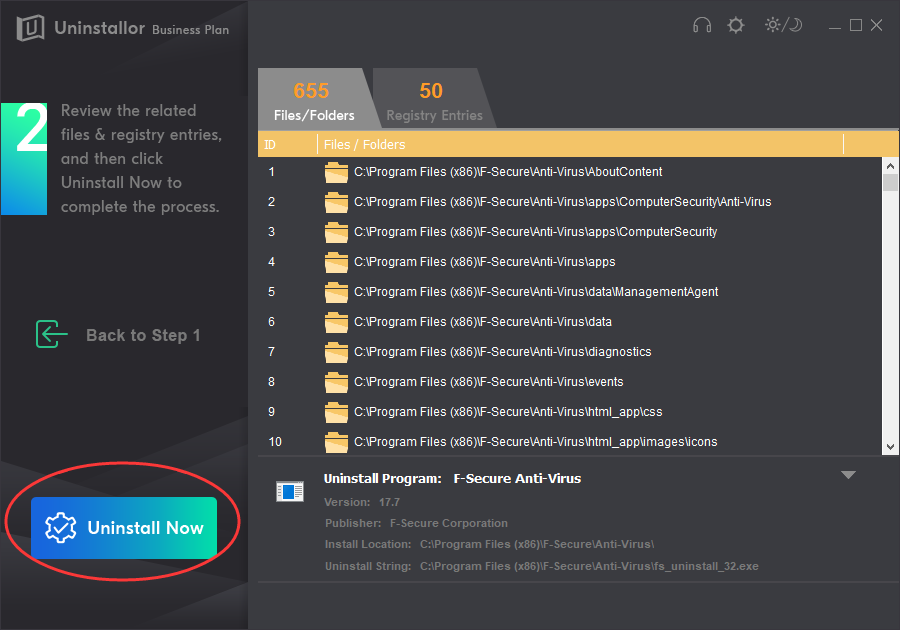 Fourthly, click Remove Now button to clear the remnants when Uninstallor displays the detail of F-Secure Anti-Virus leftovers. Now, the software is completely deleted from your PC. There is no need to locate and remove leftovers manually, so you can avoid data loss and save your precious time.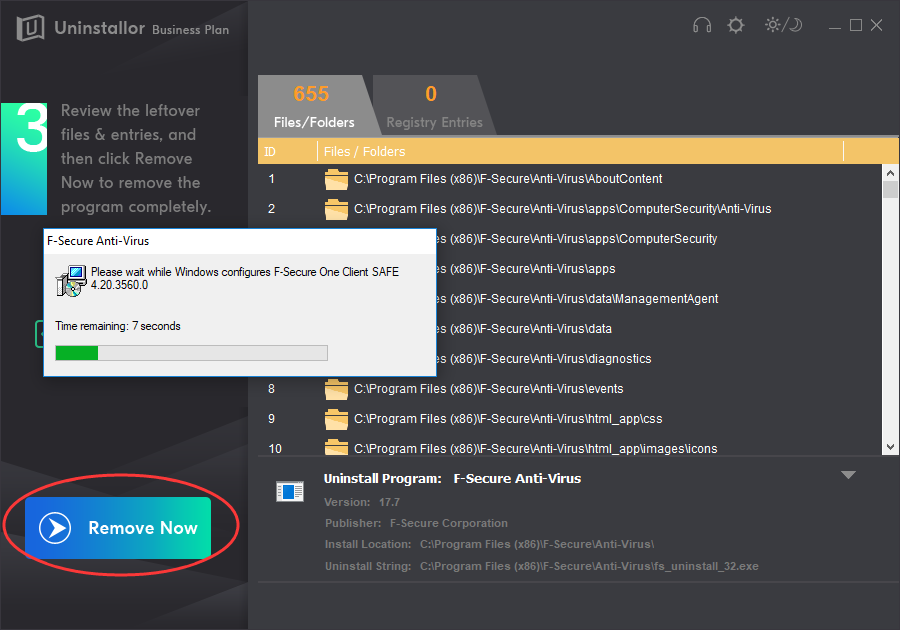 Video Guides to Uninstall F-Secure Anti-Virus
Conclusion
It is common that you can't uninstall an anti-virus program properly due to its features and configurations. If you fail to remove F-Secure Anti-Virus from your PC, follow our guides to try it again. The manual solution requires computer know-how and patience to perform. Remember to remove leftovers manually after the uninstalling to ensure it is successfully deleted from your PC. An incomplete uninstallation will leave many useless and invalid items in the registry. If you are looking for an easier and quicker solution, Uninstallor is the tool you need. It not only helps you uninstall F-Secure Anti-Virus completely, but also lets you uninstall other software that Windows uninstall features can't, such as bloatware, stubborn software, adware and plugin. Uninstallor package also includes custom fix and remote support that ensure you can uninstall unneeded software without any problem. Give it a try, and you will know how useful it is.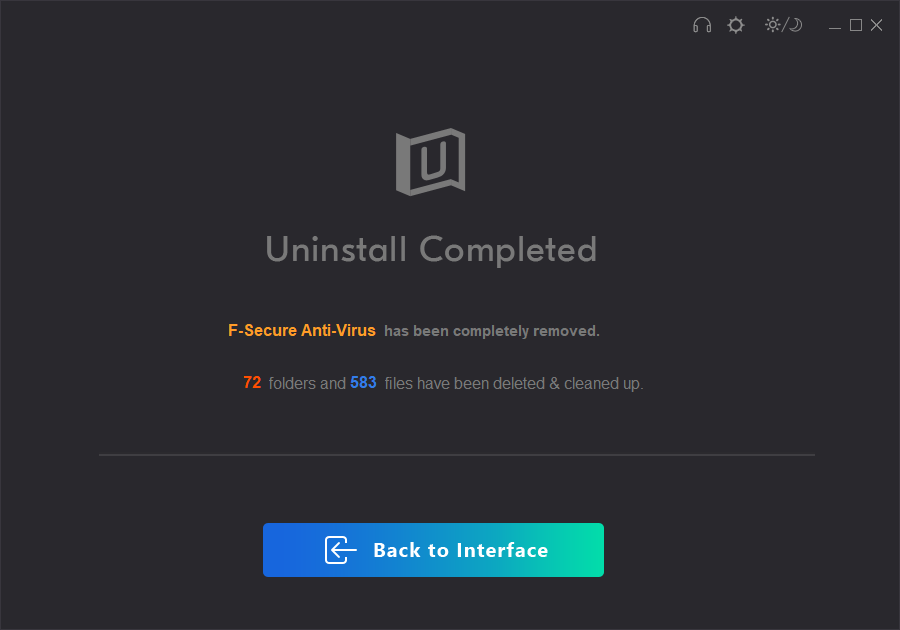 Published by & last updated on January 8, 2020 3:58 am