I need your help. I have been trying to uninstall MyWinlocker for three weeks, but it never works. I saw MyWinlocker when the first time I got my Acer laptop. It had been working greatly for a long time. Lately, it does not work and I always get error message. At first, I attempted to reinstall the software, but it told me that a newer version already exists on my PC. Then I decided to uninstall the existing version, but the process got stuck and never proceeded. Finally, I received a pop-up saying that the program was not uninstalled successfully. Now, it's still on my system. I don't know which steps I did it wrong. Please suggest. How do I get rid of MyWinlocker?
Brief Information of MyWinlocker
MyWinlocker is a useful file encrypting utility developed by Egis Technology. It lets users control their privacy by helping users protect passwords, log-ins, and other private data at any time by providing advanced encryption technology. It allows users to create a personal secured hidden virtual drive called Yo-Safe to store files and folders. To access the virtual drive, users are required to enter their master password through the main interface of MyWinlocker or through the Windows Explorer. At the same time, MyWinlocker uses AES technology which is used by NASA, FBI and other government departments to protect users' data. Others won't be able to snoop at users' precious data. It is a very convenient and secure way to store personal data.
MyWinlocker includes a trouble-free self-decrypting feature which enables users to communicate and share files with family and friend in a secure. Only users and the receivers can decrypt the contents and view the data. The software has a very comfortable and clear user interface. Users can use it easily. For many users, it is a useful program to protect important data. Some users may install the software themselves. Some users have this program a piece of buddle software. MyWinlocker is included by default on some manufacturer's PCs. According to Acer and Asus PC users, the software is preinstalled on their systems.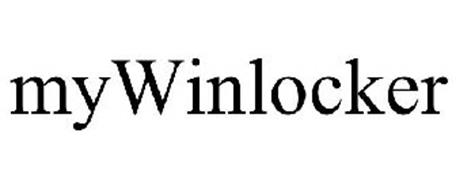 Try to Uninstall MyWinlocker?
MyWinlocker has been used by lots of people. However, some users are trying to delete it as they don't need it any longer. Some users even blame the software for being a Trojan horse or a virus. In fact, it is not a virus or a dangerous program. Some users identify it as a potentially unwanted program because it is commonly spread via software bundles. They don't feel good when they see the software on the PC while they didn't install at all. Some users call it bloatware or bundleware as it is often preinstalled on the PC or is installed alongside other freeware. As a small price for using MyWinlocker, you will see ads on the user interface. Some users may be annoyed when seeing the popup ads.
Some users try to remove MyWinlocker as it does not work as good as they thought. They report that the program does not work after the program update got stuck and crashed. Some users tell that the program has failed to start because sysenv.dll was not found. Some users complained that the program consumes system resources and affects system responsiveness. It is very common that users meet problems when using a program. Some users choose to fix the problems while some users decide to uninstall the program. If you choose to remove MyWinlocker from your PC, remember to uninstall the software completely.
Can't Remove MyWinlocker Successfully?
Can you delete MyWinlocker successfully? According to the data offered a tech support forum, a large number of users can't uninstall MyWinlocker successfully. What problems do you have when trying to uninstall the software? According to users' reports, they are interrupted by errors and fail to finish the process.
The uninstalling can be stopped when an error has occurred. You may see message "The program was not properly or completely uninstalled." The program icon may disappear from the desktop, but not all of the files are removed. MyWinLocker's registry entries and other files still stay right in your drive even though you have finished the uninstalling process.
Some users tell that MyWinlocker won't be found in Programs and Features. As they only know to uninstall software from Programs and Features, they get confused and can't delete the software off the PC. As the software comes with the system, it may include application protection and refuse to be removed. The uninstall option may be hidden.
When the file required to uninstall MyWinlocker cannot be run or is corrupted or missing, you will not be able to uninstall the program. Sometimes, one or more registry entries of this program are corrupted. You will see error like "this program can't be uninstalled as it has been corrupted." Sometimes, the error 1722 error occurs and stops you from uninstalling the program. Do you have the same problems as we mentioned above? Don't worry. We provide clear and effective methods to uninstall MyWinlocker completely.
How to Remove MyWinlocker Thoroughly?
Are you searching for an effective solution to thoroughly get rid of MyWinlocker off your PC? We provide both manual and automatic methods to remove the software easily. If you don't remove the software properly, you may have software conflict issues and your PC slows down with a pile of software leftovers. It is very important to remove MyWinlocker in a correct way. Before you start, you can start the PC in safe mode, and close all the processes of MyWinlocker that are running at background so as to go through the uninstalling smoothly.
Solution A: Uninstall MyWinlocker Manually
If you are good at computer, you may choose the manual solutions. There are several ways to proceed and couple of steps to go through. It requires some computer skills to remove MyWinlocker manually without leaving any remnant. There are two major steps to do. You need to uninstall software, and then clear leftovers properly. Follow the guides to delete it successfully.
Method 1: Uninstall MyWinlocker from Start Menu
Step 1: click Windows icon at left bottom to open Start menu.
Step 2: look for MyWinlocker and right click the icon. Select Uninstall on the popup menu. It will show the list of software you installed with MyWinlocker selected.
Step 3: click Uninstall and click Yes when a popup dialog asks if you are sure to uninstall the software.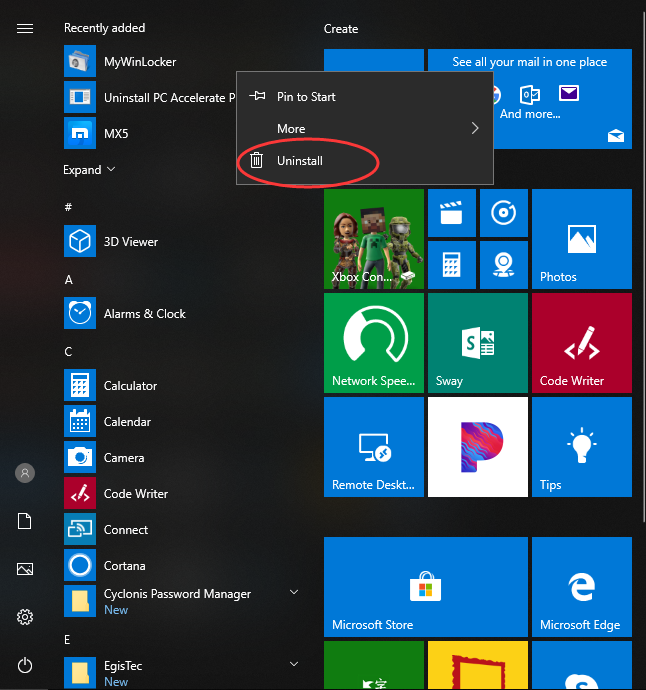 If MyWinlocker does not appear on the Start menu, try it from Settings or Control Panel.
Method 2: Uninstall from Settings
Step 1: click Windows icon at left bottom to open Start menu. Click Settings icon which looks like a gear at the left side.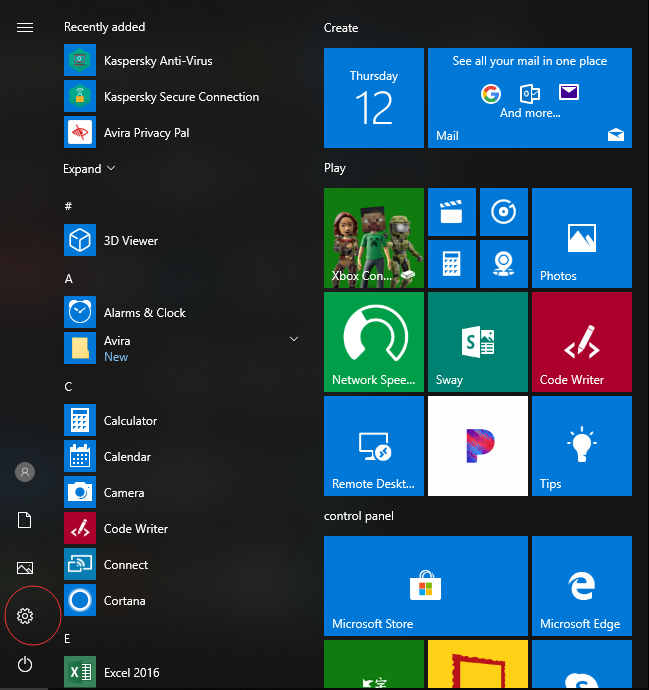 Step 2: click Apps menu, and then select Apps & Features.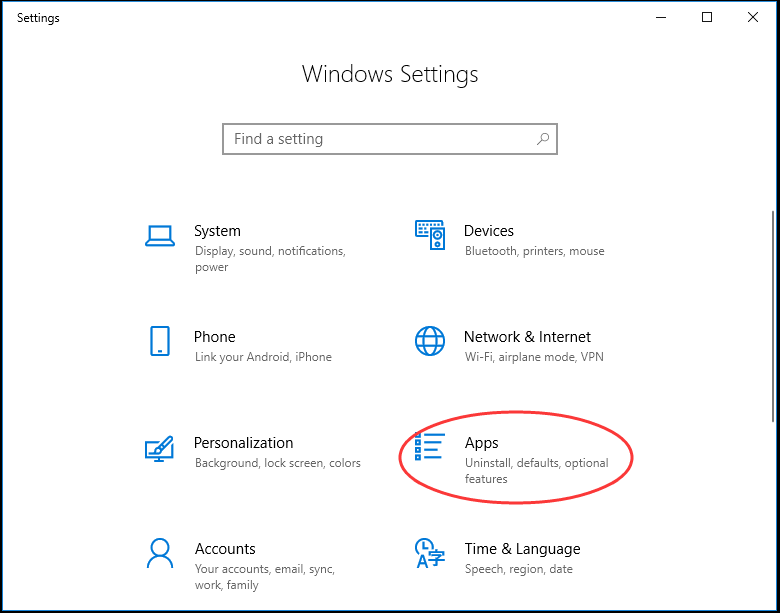 Step 3: locate and select MyWinlocker. A menu will pop up. Click Uninstall and click Yes to perform uninstalling.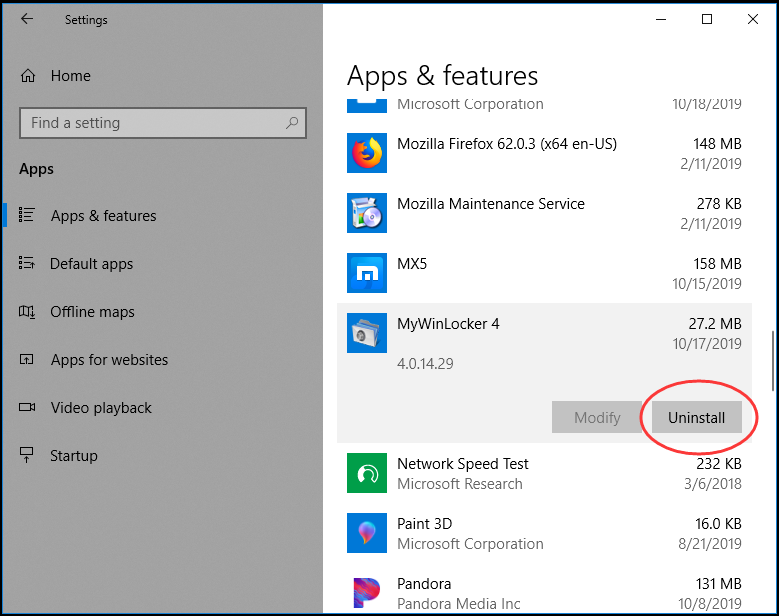 Method 3: Uninstall from Control Panel
Step 1: click search box on taskbar and type in "control panel". Click "control panel" on the popup list.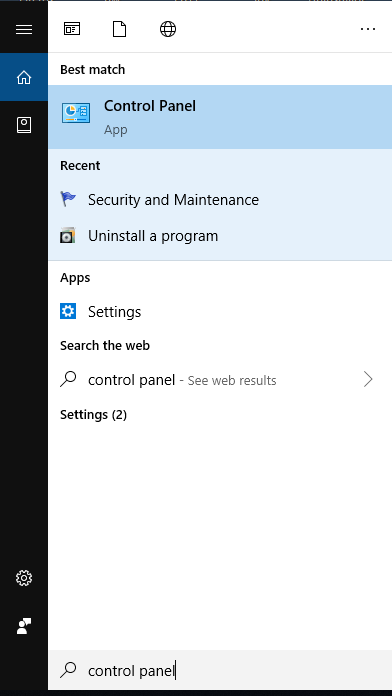 Step 2: click Uninstall a program under Program menu.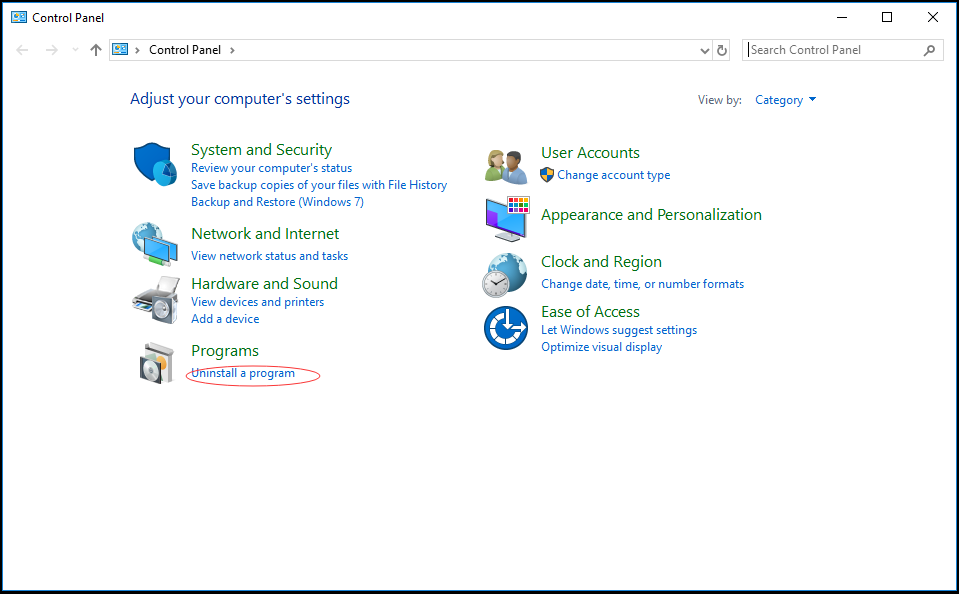 Step 3: look for and click MyWinlocker. Click Uninstall button on the top, and select Yes to proceed.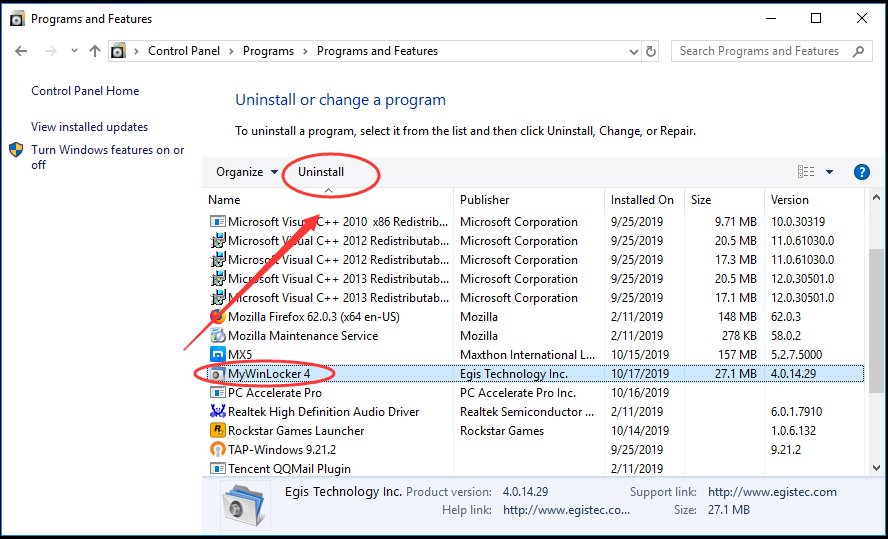 Clear Leftovers
Simply uninstalling the software is not enough. It only deletes the executable files. When MyWinlocker is installed on your PC, the system will save its settings and information in the registry. If you don't perform a complete uninstallation, there will be many useless and invalid items in the registry, occupying the free space of your hard disk and slowing down your PC performance. The leftover may cause software conflicts as well. Therefore, you need to delete leftovers including registry entries, cache files, and temporary files of MyWinlocker thoroughly.
Firstly, press Windows and R combination keys to open Run dialog.
Secondly, type in "regedit" in the dialog and click OK.
Thirdly, find and type Egis and MyWinlocker and delete everything regedit finds. Below is one of the example.
HKEY_LOCAL_MACHINE\SOFTWARE\Microsoft\Windows\CurrentVersion\Uninstall
It is very time-consuming and risky to manually edit registry. If you mistakenly delete those needed by system running, it may cause system crashes and other vital problems. You are suggested to back up registry data before you delete leftovers, so you will be able to restore data instantly. Besides, you need to locate and remove app data of MyWinlocker on the local drive as well. This method is recommended for users who are proficient in computer operating. If you are looking for a quick MyWinlocker removal, you can use a professional uninstaller like Uninstallor.
Option B: Use Uninstallor to Delete MyWinlocker Completely
If you don't think you can handle the manual removal and need a more effective way to uninstall MyWinlocker, you should try using an uninstaller. Uninstallor is a great service which helps users uninstall various kinds of software easily. By installing the software, users can uninstall software they installed and get rid of unwanted programs completely. It does not require special computer skills to use this uninstaller. Let's learn how to use Uninstallor to remove MyWinlocker completely.
First of all, download and install Uninstallor on your PC. Open Uninstallor program, and it will load all software you installed.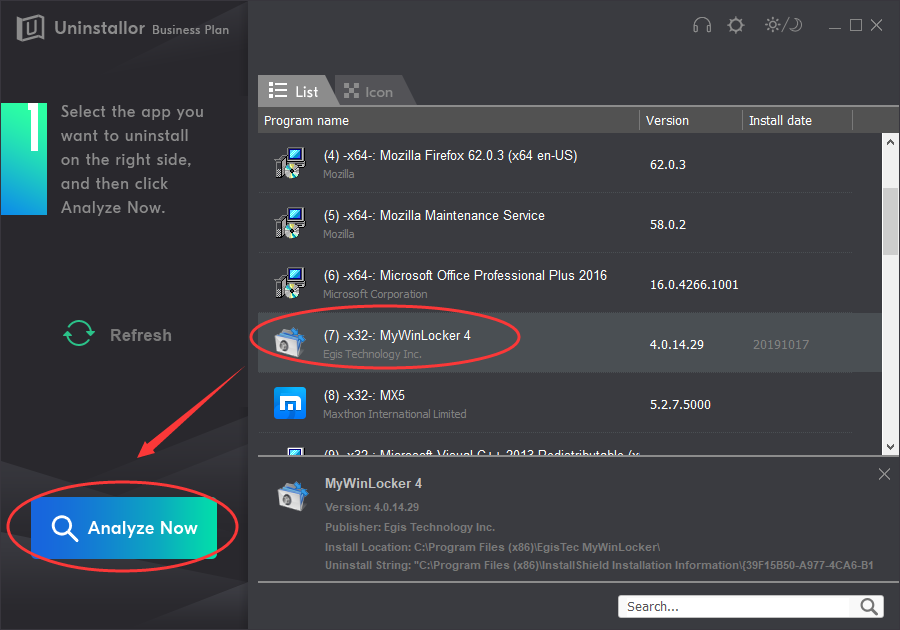 Secondly, locate and select MyWinlocker. Click Analyze Now button to analyze the software.
Thirdly, click Uninstall Now button when it finishes analyzing.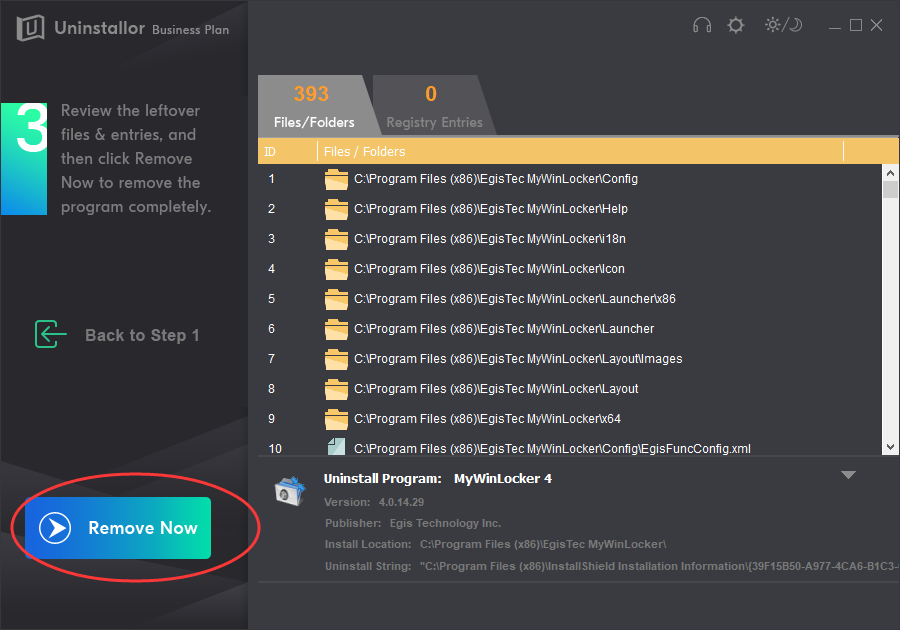 Lastly, the programs locate the leftovers automatically when it uninstalls the software. Hence, you only need to click Remove Now button when it finishes uninstalling and displays leftover detail information. Now, MyWinlocker is completely deleted from your PC.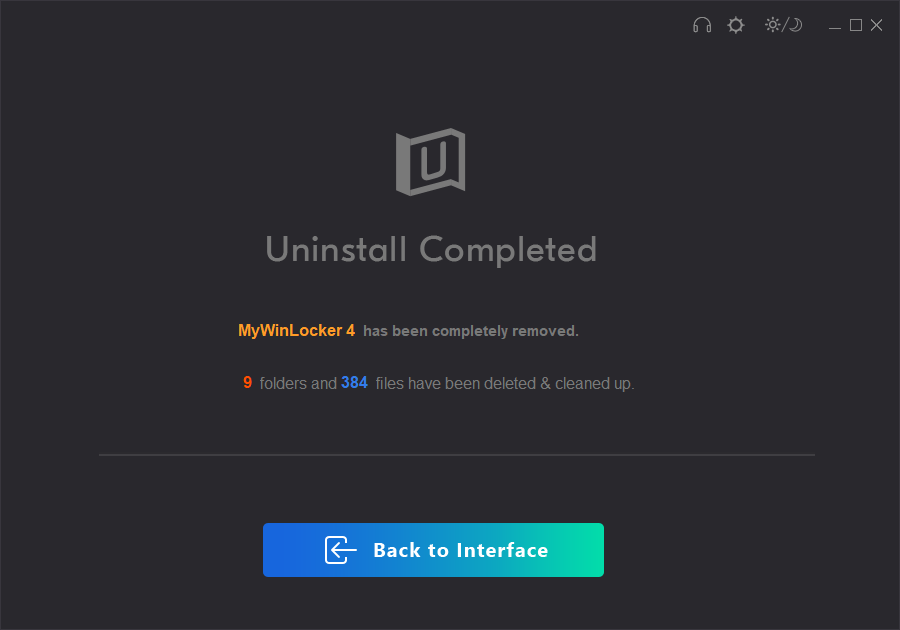 Video Guides to Uninstall MyWinlocker
Conclusion (Remove MyWinlocker Completely)
If you can't uninstall MyWinlocker, you can follow our guides to remove the software quickly. Removing MyWinlocker manually is risky in some degree. If you are computer sawyer, it is a good method. If you are not experienced enough to uninstall MyWinlocker by your own, let Uninstallor do the job for you. It is able to handle stubborn software that the system remover cannot. Uninstallor detects and removes all associated files and components of the software thoroughly, tiding the registry and improving the system performance. Besides, the service includes custom solution and remote support as well. If you have any problem, contact their support team. If you fail to remove a stubborn program after it is installed without your intention, Uninstallor is the tool you need. It will help you uninstall all kinds of software safer and faster. Use this simple, convenient and prompt uninstaller to save your hassle to uninstall MyWinlocker and other software you don't need.
Published by & last updated on January 8, 2020 3:51 am