Malware, Cookies, or Viruses and other potential harmful elements to your computer can hide anywhere on the Internet. A reliable security program is needed to secure your device. Which one should you choose? ESET delivers high-performing security solutions for Internet users all over the world, detecting and disabling all known and emerging forms of malware. This company offers reasonable prices and gives promotion from time to time. Verified ESET coupons and promo codes can be used for both home and business products. You can spend less money to enjoy the latest Internet security features. You can find coupon for the biggest ESET discount on this website. ESET Promo Codes & Coupons: Save 50% with License 2019.
Brief Information of ESET
ESET is a leading company that offers advanced and useful services and products in security industry. From a small, dynamic company, ESET has grown into a global brand with over 110 million users in short time. They never are satisfied with their products, so they constantly push boundaries and are determined to make a difference. This company is based in Bratislava, Slovakia, and has regional offices in North America, South America, Europe and Asia, supporting a sales presence worldwide. It aims at building a more secure digital world so that all users can truly benefit from the technology and Internet. In August 2017, it scored 100 percent in performance against zero-day malware attacks, web, and email threats based on nearly 200 samples. Now, ESTE protects users against all types of online and offline threats and prevents malware spreading to other users effectively. You can learn its major features in this article.


Pricing & Discount
ESET products are offered on a subscription-based tier system and the pricing varies between coverages and number of computers protected. They all can disarm harmful cyber threats and keep your devices secure. The three major products are ESET NOD32 Antivirus, ESET Internet Security and ESET Smart Security Premium. Currently, you can save money to get products because big discounts are available. The ESET NOD32 Antivirus combines basic defenses against phishing and spyware with ransomware defenses. It costs $39.99 USD and there is no savings on this plan. If you sign up for two years, you can save $19.99 USD. The ESET Internet Security adds a firewall, spam protection and a scanner for vulnerable devices on the home network. This package also has a protected browser for online banking and shopping, and dedicated webcam protection. It was $ 59.99 USD and now it is $49.99 USD per device per year. You get $ 10 USD off. ESET Smart Security Premium adds file-level encryption and a password manager to Internet Security's toolkit. It was $ 79.99 USD per device per year. Now it is $ 59.99 USD per device per year. If you want longer subscription, it is $99.99 USD for two years and $139.98 USD for three years. You get $ 20 USD off on any plan.
ESET Promo Codes & Coupons: Save 50% with License 2019. Sometimes, the provider offers special deal with coupon code, promo code or discount code. With active ESET anti-virus coupons, deals, promo codes, you can save up to 50% off. Besides, if you are ESET customer, you can save 15% Off when you renew your ESET Smart Security by redeeming the renewal promo code. With valid ESET coupon code, promo code or discount code, it is possible to purchase the great products at cheap price.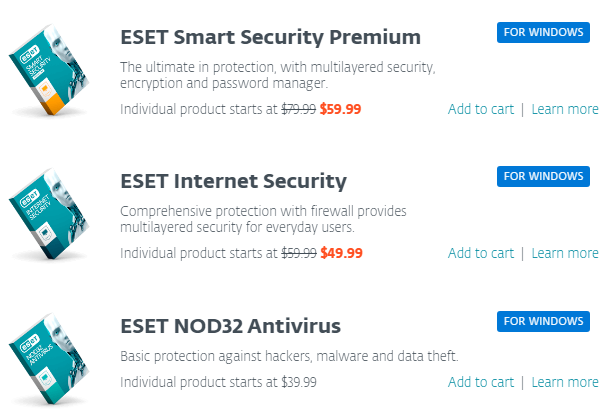 Free 30-Day Trial
ESET provides free 30-day trial to let you test the security products for free. Under free trial, you can choose Complete protection and Advanced protection. The Complete protection plan enables you to stop hackers, shop and bank online securely, store and prefill passwords safely and encrypt files and photos. The Advanced protection plan only helps you stop hackers and lets you shop and bank online securely. You have 30 days to figure out if it ESET provides what you need. No credit card and commitment are required to get this free trial. Simply download the software and secure your Windows, Mac, Android, Linux, or your Business. At the end of your trial, you need to upgrade your plan to get protection and enjoy more features.


Why ESET?
ESET products have now passed every VB100 test for over 12 years. It has great reputation and becomes of the most famous services. Users pick it to secure computers and devices, protect their precious family pictures and data and even keep their company know-how safe. This company delivers security solutions to users across 200 countries and territories worldwide. Its products safeguard users from various cyber threats, assisting them to use and explore all the great opportunities of the Internet. Its anti-virus package includes great detection rates, small footprint and centralized management. You will also get network protection, password manager, data encryption, device control, parental control and more practical features. It lets you securely connect to the Internet on your phone, laptop or tablet. The useful and convenient solutions offered by ESET free up customers' IT resources. Its products have low system impact, keeping you protected without slowing you down. It also is very easy to use the security software and you can get started with it within minutes. To let more users get the opportunity of benefiting from its products, it provides reasonable prices and offers generous coupon. Grab ESET 50% Off discounts now.

Anti-Virus Features
ESET offers an anti-ransomware feature to block one of the more pernicious threats out there. It regularly scans for ransomware-like behavior such as mass encryption of files. When it works, it first checks files against known viral signatures. Next, it utilizes heuristic analysis that inspects suspicious code and monitors software behavior to look for the attributes of a previously unknown attack. Once it detects anything suspicious, it alerts you and inquires if you initiated the action. It will send suspicious dangerous files to ESET's LiveGrid cloud lab for further examination. According to the provider, their products won't interfere with most mainstream encryption tools. Therefore, you can work normally.
It has network-attack protection feature to stop threats that try to spread through your home network. Many famous Trojans are developed to spread via home network to attack a massive of devices at a time. That reduces the risk of losing important data on all of your devices at once. The exploit blocker feature will monitor your app and prevent malicious apps from accessing your system. If any malware hides in RAM, the advanced memory scanner goes after it and eliminates it right away. And, the UEFI scanner guards you against low-level malware. In addition, ESET provides SysRescue Live software which can be used to create a DVD or flash drive. It can boot a Windows system into a clean Linux environment and scan for pervasive threats. This is essential for reviving a machine bogged down with malware.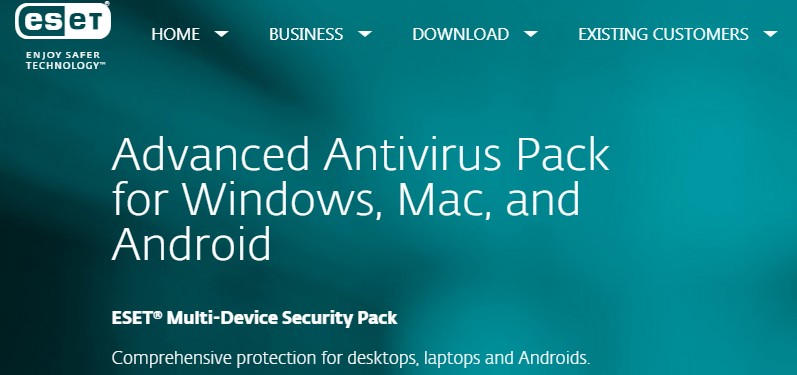 Connected Home Monitor
ESET offers a feature named Connected Home Monitor to scan your network for devices. After scanning, it shows you all the devices on your network from tablets, routers, and smart speakers to PCs and smartphones. In the beginning, some devices will show up with their actual names in the circle while others will not. If problems are detected, they will be highlighted by exclamation marks with various colors. For example, the blue mark tells you there's an issue while it's probably no big deal. The yellow mark means there's an issue you should probably let ESET fix. If it figures out something wrong, you can correct it by hand or let the security program get it done for you. Usually, scanning all devices for insecure settings takes about 25 minutes. Besides scanning for weaknesses, the connected home monitor is a convenient feature to view all the various devices that are connected to your WiFi. When a new device joins your network, a popup alerts you. That means your neighbors cannot secretly leech your WiFi.


Encrypted File Storage
ESET allows you to create encrypted virtual drives for your data. You need to pick a name and location for the file that contains the encrypted drive's data, and then choose a drive capacity, either selecting from a list of presets or setting a custom size. You should set up them carefully because you can't change the size after creation. You can keep that drive open or locked. If you keep it open, it works like a normal drive and lets you to move files into and out of it, create new files, edit files, and so on. If you lock it, others can't access content on that drive. Data-theft Trojan won't be able to steal your encrypted data and snoopers can't peek at them when you walk away from your computer. Besides, it lets you create an encrypted folder on a removable drive so that you can carry them anywhere.
Safe Browsing
ESET checks websites you visit and stops you from using malicious websites. It exploits blocker that monitors the most commonly attacked applications like your browsers and social media apps. When you browse, you may see various popups on unknown websites. You need to be cautious because many users were attacked by ransomware after clicking on a popup by mistake. They didn't have time to react and the ransomware was installed and locked the device quickly. ESET alerts you of dangerous websites and programs before they can damage your device. It also provides Banking and Payment Protection to put extra protection around your default browser. It kicks in automatically when it detects a known financial site, and puts a green border around the browser so you'll know it's active. It gives you a popup to ask if you want the secure browser to open so you can safely enter your details. You can shop online without worrying about information leak.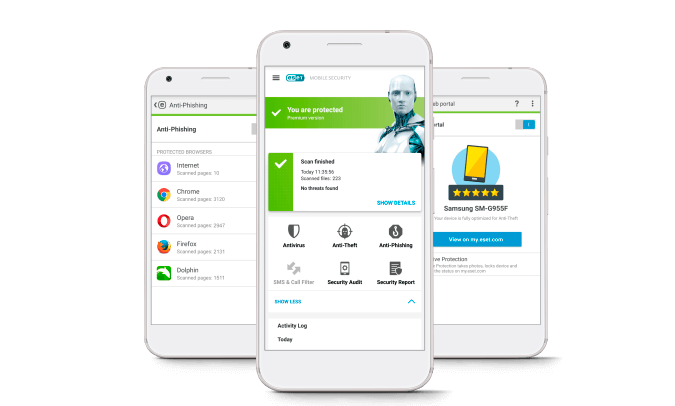 Parental Control
Along with filtering unsuitable web sites and locating the device in real time, the Android version has a very nice feature in its parental control module. For users who have kids, they need to supervise their kids' online behaviors properly as the kids can't decide what's right and what's wrong accurately. They may be affected by wrong views and bad events. ESET's parental control consists solely of content filtering and logging of blocked content. It helps you block inappropriate websites by selecting a filter category, such as violence, drugs or pornography. During our test, the filter worked effectively, even for sites using HTTPS. To prevent your child bringing viruses from their friends, you can use Device Control to keep their kids from mounting unapproved USB drives. ESET lets you control the use of a wide variety of devices at a time. Its Device Control also is extended to include control over your webcam. You can use it to disable the webcam, re-enabling it manually when you have a video call. You can allow specific programs to use the webcam, blocking all others. The hackers won't be able to activate your webcam to threaten you. Besides, it has Gaming Mode to reduce interruptions when you're building your dream city or blasting aliens. Gaming Mode works as well for family movie night or any full-screen app.


Clever Anti-Theft System
It is very awful to lose a device with all kinds of important data on it. Therefore, ESET provides anti-theft system to locate your lost device and prevent data loss. You need to configure anti-theft feature on your device. It will create a "phantom" account on the protected computer. After that, you will be able to remotely locate or lock a lost or stolen device, and snap screenshots and webcam pictures. When the thief logs into the lost device, you can take pictures and video of him, and also track his location. You can even remotely access and retrieve your data on the machine. The condition is the system is turned on and connected to the Internet. In addition, the Smart Security Premium can encrypt any file or folder using AES encryption with a 256-bit key. The thief won't be able to access your encrypted data though they get your device.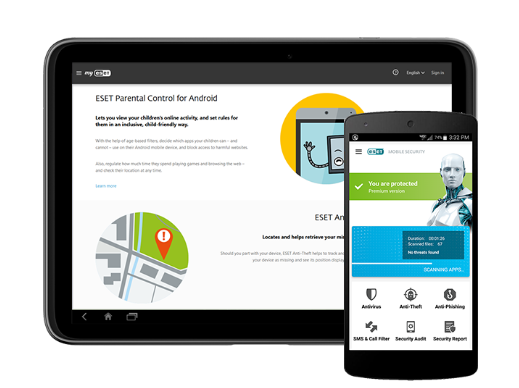 Password Manager
ESET's password manager is a licensed version of Sticky Password Premium. Passwords to email and online banking sites are vulnerable during an attack and can be used to steal your identity. Therefore, it is necessary to keep them safe. This feature lets you sync passwords across your PCs and Macs. It is a pity that there is no mobile support. When using the password manager, it requires that your master password must be at least eight characters long, and must contain capital letters, small letters, and numbers. To prevent others stealing your confidential information, it allows you to enter passwords by using a virtual keyboard to foil a keylogger. The virtual keyboard can optionally generate a flock of decoy cursors that move at random. In this way, a nosy onlooker couldn't determine which keys you clicked. You can use the password manager to generate, upgrade and store passwords. You also can store your personal information on it and it will autofill saved information on safe websites if you need. This password manager integrates with Chrome, Edge, Firefox, and Internet Explorer. You can use your passwords across different browser securely.


Easy-to-Use Software
ESET's interface is dominated by the company's robot mascot and open, bright and functional windows. It is easy to understand, manage, and navigate, making it a great choice for someone who doesn't want a complicated power-user interface. You will see "You are protected" massage when your device and data are safe. From this dashboard you can start a quick scan, use ESET's sandboxed browser for banking and online shopping protection, or check out the security status of all the devices on your home network. If you have any confusion about the product, you can navigate to its FAQs and support articles that include lots of useful information. They list commonly seen problems and related solutions on its website, so you can find answer easily. You also can send your question and contact info to the support team via ticket system. If you prefer faster respond, you can contact them via telephone support. Please note that the telephone support is only available during regular business hours. With the top ESET discount and promo codes, you can enjoy the full features at low cost.


Conclusion (ESET Promo Codes & Coupons: Save 50% with License 2019)
ESET is a pioneer of antivirus protection, developing award-winning threat detection software and offering helpful services. Its comprehensive antivirus protection, anti-phishing and additional security features make it become one of the best security services. The security products make it possible to enjoy the breathtaking opportunities that technology offers as well as maintain security and privacy. ESET enables you to arm your personal computer, smart phone and other mobile devices with the defenses needed in today's fast paced constantly connected world. It stops unauthorized access to your computer and misuse of your data. Let you to stay safe while making online payments or browsing the webs. Extra features including password management, webcam protection and file encryption etc. come along with the security package. You are able to use it to protect your webcam and home router from intruders, and test your passwords and scan your smart devices for vulnerabilities. After using its products, you will realize that it is worth every cent you spend on it. Get ESET antivirus promo code on this page. Save up to 50% with these current ESET coupons via promotion link.


Published by & last updated on February 19, 2019 6:26 am