You may look for F-Secure Freedome VPN Discount Code to save money. F-Secure Freedome VPN is a leading service trusted by lots of users all over the world. It is worth to invest in this VPN and it will be great to save money with valid coupon. We would like to collect and update promo and coupon information to help you save as much money as possible. Get the latest discount information by reading the content here and take 20% off F-Secure Freedome VPN discount code.
Brief Information of F-Secure Freedome VPN
F-Secure Freedome VPN is one of the oldest VPN providers which began in 1988. Their team is spread out across 20 offices from Helsinki to Kuala Lumpur in Malaysia. It is a stable VPN developed to maintain your online privacy, secure Internet connection and offer free access to the Internet. This VPN protects your privacy by hiding your IP address, blocking tracking cookies and preventing apps from sending information about you to data collection websites. It safeguards information flowing in and out of your devices by using advanced encryption standard and offering a variety of different security features. That makes the job of hackers, advertisers and government surveillance much harder. Besides, F-Secure Freedome VPN offers decent speeds, a hassle-free experience and a no-registration free trial as well as unblocks restricted streaming services.

F-Secure Freedome Plans & Coupon
F-Secure Freedome VPN provides three plans. All of them are yearly plans and monthly plan is not offered. Depending on how many devices you want to cover, you can choose a plan with three devices or seven devices. If you need protection for three devices, you need to pay $34.99 USD for 12 months one time, it is $0.97 per device/month. If you get the plan for 7 devices, it is $69.99 USD for a year for family plan, it is $0.83 per device/month. You need to pay the amount in one time. If you have more than 3 devices and want long-term secure, pick the plan with protection of seven devices for 2 year, it is $0.54 per device/month, one-time charge. It is relatively cheap in the VPN market.
Sometimes, the VPN provider offers special discount code to allow users to save cash. For sometimes, discount code is available for user. You will get savings after applying the code. How to use F-Secure Freedome VPN discount code? Visit VPN provider here and copy discount code. From the payment page, click on "Enter Discount Code" and paste code you copied. Hit "Apply" and the price will be reduced automatically. Please note this F-Secure Freedome VPN discount coupon is valid from the 27th of February until the 3rd of March 2019. You get extra 50% off during this promotion.
News Update! Did you miss the great chance to get F-Secure Freedome VPN Black Friday & Cyber Monday special deal? It's okay. The provider is offering another great discount at this time. During this promotion, you get 40% off. No code is required. Simply use promotion link on this page to activate discount. The provider does not give the exact date when this special offer will be invalid. We will update the information after we receive further information. Don't miss out this chance to save 40% on F-Secure Freedome VPN
Most popular (3 devices 1 year): $54.99 $34.99
Family Plan (7 devices 1 year) : $89.99 $69.99
Best offer (7 devices 2 years): $119.99 $89.99
You can make payments with credit cards, PayPal, PayNearMe, wire transfer, check, and money order. It is a pity that this VPN provider does not offer cryptocurrency payment method. This service does have a free trial for 5 days that you can use. This will give you enough time to learn how everything works and if it meets your need. When your 5-day free trial is up, you need to sign up to continue to enjoy the great protection of this VPN. To sign up, you will need to provide basic personal details like your first and last name, location, email, and payment information. They also have a 30-day money back guarantee. If you are not satisfied with the service, you can claim a refund within 30 days after the subscription.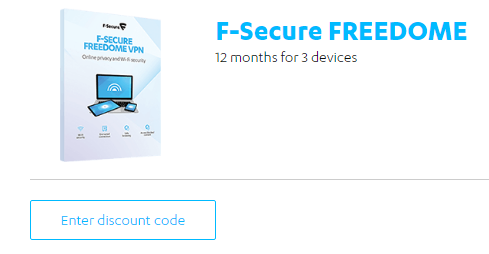 Reason Why Choose F-Secure Freedome VPN
F-Secure Freedome VPN is an advanced service with a spotless record of consumer trust. This VPN has been defending tens of millions of Internet users around the globe from digital threats for over 25 years. It offers customers excellent protection far beyond that of a pure VPN service. This company also creates security products for a long time and has rich experience in detecting harmful content and protecting your data and device. It combines technology of security products with high encryption level to give you the best protection. It shields you from phishing sites, malware and ad trackers. With it, you can use public network and browse carefree. Besides, F-Secure Freedome VPN promises complete privacy for your activities online. It offers IP address to replace your IP address so as to wipe your digital footprint and prevent tracking. The provider does not log your traffic or store your sensitive information. Besides, this company is based in Finland which is a country with strict privacy laws. Your privacy is guaranteed. Its numerous servers over the world are also excellent, helping user unblock restricted contents freely. This useful VPN service comes with friendly price which starts from $34.99 USD per year, and sometimes you can apply with F-Secure Freedome VPN discount code to get extra coupon, this is limited time offer. In addition, its VPN app is user-friendly and futuristic. You can get started without any problem as it is easy to navigate.

High Encryption Standard
If you browse without a VPN, your surfing can be exposed and hackers can steal your information on public WiFi. The good news is F-Secure Freedome VPN secures your everyday online activities like doing taxes, online banking, streaming, and browsing. This VPN uses strong encryption for all communications between your device and the F-Secure servers. They deploy TLS, 2048 bit RSA keys with SHA-256 certificates and AES-256 + HMAC-SHA1 for control channel. AES-128 + HMAC-SHA1 are used for data channel. You have military-grade encryption. This means that identity thieves and other criminals cannot steal your personal information by intercepting your data traffic, even when you use an open Wi-Fi connection at airport or hotel. F-Secure Freedome VPN supports protocols like OpenVPN, IKEv.1 and IKEv.2. OpenVPN is most advanced protocol with AES 256-bit encryption. This encryption standard is considered as the strongest available option on the market. IKEv.1 comes with AES-256 + HMAC-SHA1 and 2048 bit RSA keys with SHA-256 certificates. IKEv.2 comes with AES_GCM_16_256. It lets you use the Internet securely.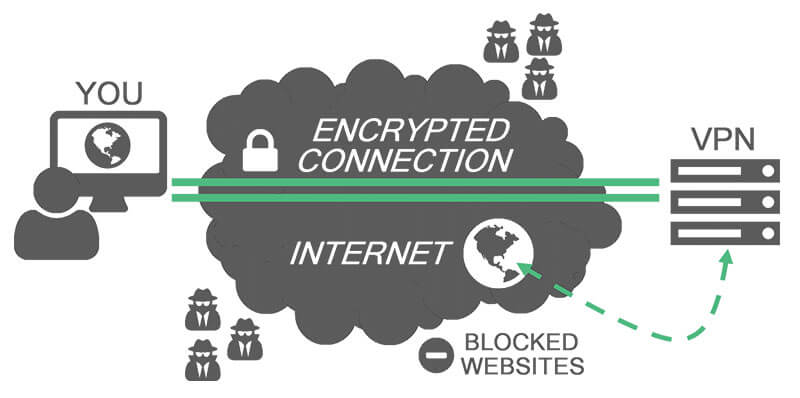 Global Network
F-Secure Freedome VPN offers 27 global servers. This includes eight in North America, three in Asia, 13 across Europe, and single servers in Mexico City and Australia. It might not a large network, but the speeds are decent, and the bandwidth isn't limited. There is no limit on switching between different servers. The server selection screen includes national flags and a moving globe. It is very easy to connect to your favorite server. Why do you need remote servers? On one hand, it protects your privacy. When you connect to the Internet, your device is assigned an address that identifies where you are. This VPN lets you select a virtual location. In this way, your device has an address in the country you select. On the other hand, it gives you faster speed on streaming service even though they are not available in your country. You are allowed to select the virtual location that is closest to where you are, thus you get the best possible network connection. During our VPN test, we were able to stream 4K movies from YouTube smoothly. Don't which is the closest server? That's not a problem. On Android devices and desktops, you can set the VPN app to automatically use the virtual location that is closest to you. It cannot automatically set the virtual location on iOS devices, but it suggests the one that is closest to you. As your virtual location is changed, you can unblock geo-restriction and access the global network freely. F-Secure Freedome VPN provides server locations to protect your privacy and let you access your favorite streaming services when abroad.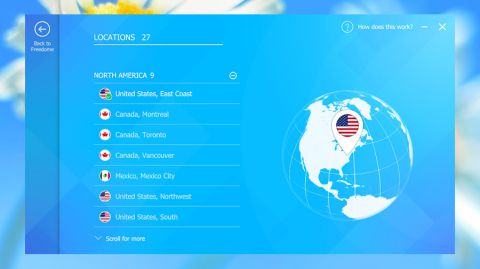 Get Anonymous
In those days, Internet users are concerned about privacy on their android devices because of data snooping or tracking by many means, especially after the Congress voted to allow the ISPs to sell users' browsing histories to the third parties without users' permission. Users are seeking help to take back their privacy. F-Secure Freedome VPN is one of the top players in privacy protection. It hides your actual IP address from the websites and services you visit, and not even your ISP can see what you do online. Once connected to this VPN, all your data traffic uses the IP address of the F-Secure server that you are connected to instead of your device's address. It blocks cookies from the website easily breaks login sessions, stored preferences and other valuable features. In other words, the website you visit can't detect your real IP address or record information on your browsing habits.
F-Secure Freedome VPN does not log or store any of your data, can't link you to the IP address of your browsing destination or connect any related information to you in any way. The only information they store temporarily is the VPN session duration, the amount of data, device ID and public IP from where you connect for 90 days to protect the network against abuse. The provider puts their 30-year spotless record of protecting customers' security and privacy on the line to back that claim up. Besides, the jurisdiction of F-Secure Freedome VPN is Finland which has one of the strictest privacy laws in the world. Your privacy stays safe with this VPN. Before you purchase the software, you are suggest to see if there is a F-Secure Freedome VPN discount code available for you, if there is one then you are able to get extra discount.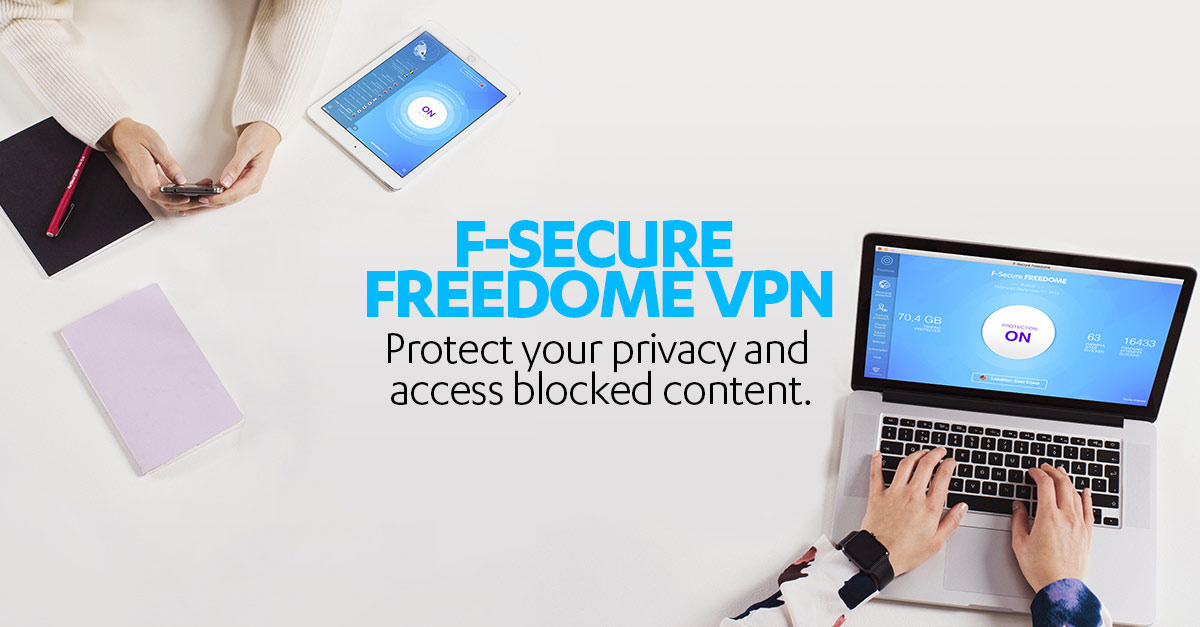 Tracker Mapper
Simply changing your IP address isn't sufficient to stop ad networks from tracking you. F-Secure Freedome VPN offers a useful tracker-blocking feature which has an interactive visual map of trackers the app blocks for you. This launches a standalone application that monitors your Web traffic and demonstrates how advertisers can track you across the Web. You can enable logging to get a general idea of how profiling looks in reality. It not only tells you how many tracking attempts, but also lets you note the specific blocked tracking attempts. It is possible to view this information on an interactive and visual map. When you browse the website, the map will be populated with more websites and more trackers. From there, you will know how the same trackers on multiple websites can cooperate to give advertisers a clear picture of your online activities. You can avoid using websites that collects your movement online according to the information.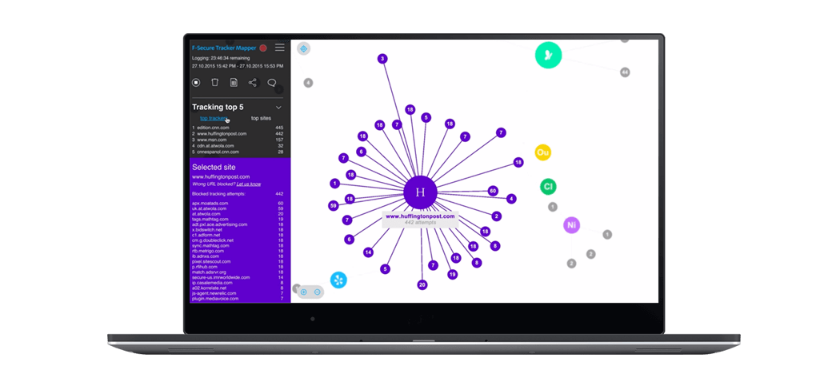 Access Blocked Content
In this globalization age, there still are many Internet limit based on geographical location. Many streaming services are restricted to their own countries due to copyright or other issue. For example, Netflix and Hulu are only open to users in the US. BBC iPlayer is restricted in the UK. It violates the lucrative licensing deals if users outside the US stream Netflix, so this streaming service has aggressively tracked and blocked popular VPN companies over the past year. Luckily, F-Secure Freedome VPN is still able to unblock Netflix and BBC iPlayer abroad. At the same time, it helps users who live in a country with strict Internet censorship like China, Russia and Tukey etc. to gain Internet freedom. F-Secure Freedome VPN hides your IP address by relocating it to another country or city. It enables you to connect to remote server which supports your favorite streaming services and media platforms etc. As you can change your virtual location freely, you won't be restricted by whatever geographical or content limitations you might encounter. The firewall and government only see IP address and servers that offered by VPN provider. They don't have reason to block your connection as you are "not" in their country. You can access content that is only available in your home country even when you are travelling abroad.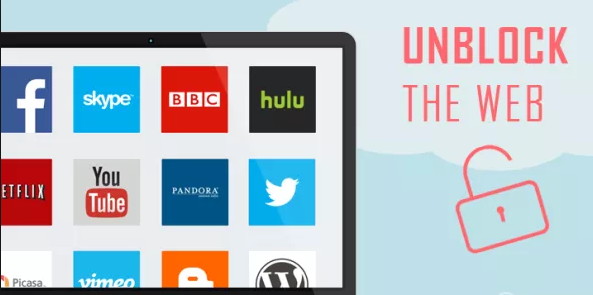 Block Harmful Content
The hackers develop and widely spread malicious programs that contain dangerous content or steal your personal information, including credit card numbers, user account information, and passwords. When you browse the web, it scans the websites for harmful content on its servers before they are transferred to your device. Malicious content can't reach your device. When the website you are about to visit contain harmful content, you will see a notification that F-Secure Freedome VPN has blocked the site. This means that you always know if any website that you visit could be dangerous, either for your device or your privacy. Commonly, Ransomware is downloaded quickly when you click on a malicious link and you don't have time to react and stop it. With F-Secure Freedom VPN, you can avoid cyber threat effectively.
Easy-to-Use Service
F-Secure Freedome VPN is simple to use. Thanks to the handy interface, it is possible to intuitively manage all features via a single button. The app doesn't lag or glitch. Switching between connecting and disconnecting is a breeze. The large blue window with the big Connect button and a few custom tabs are pretty simple to operate. Its server locations are listed by region. It allows you to hide the ones you don't need so that you can find the frequent used ones easily. The app instantly suggests the optimal server you should pick for the best performance based on your location. This VPN is cross-platform and supports Windows, MacOS, Android, and iOS. Mobile app mirrors the desktop experience in simplicity and usability. It also supports router connections, letting you to cover all devices in the house at a time. It lets you view handy facts like how much traffic has been protected and how many harmful sites blocked clearly. On its website, it offers a pretty comprehensive knowledge base and downloads section. To help you fix VPN issue, it provides supports via live chat and phone call. A list of phone numbers by region is offered. You can reach an actual human being on the phone. Please note that they're nine-to-fivers available.

Video Guide On How to Use F-Secure Freedome VPN
Top 10+ Best VPN Services In The World
VPN Brands
Servers
Country
# of Connections
Price(USD)
Official Website
3000+ servers in 94 countries.
British Virgin Islands
5
$6.67/Month (Save 49%)
Best Choice
5570+ servers in 60+ countries.
Panama
6
$3.49/Month (Save 70%)
View Deals
200+ servers in 70 countries.
Bulgaria
6
$4.18/Month (Save 50%)
View Deals
800+ online servers in 50 countries.
British Virgin Islands
Unlimited
$1.99/Month (Save 83%)

Chinese Click Here>>

View Deals
1,300+ servers in 60+ countries.
USA
10
$6.49/Month (Save 46%)
View Deals
Click Here to Read More Top 10 Best VPN Services »
Conclusion
F-Secure Freedome VPN offers an excellent mix of simplicity and security, along with protection from malware, phishing and even advertising. The U.S. Congress has been rolling back Internet privacy laws, making it easier for them to snoop, pry, and pull your data from just about anyone they want. Therefore, privacy is the major selling point for VPN services. This VPN masks online activity from both ISPs and prying government eyes. It hides your IP address and lets you breeze past online ad trackers. As the VPN spoofs your location, you are able to unblock region-locked content like BBC streaming from anywhere. It also encrypts your Internet traffic with the most advanced security technology and gives you unbreakable protection. This powerful VPN service comes with affordable price. It starts from a very low price for total cost. You can get 20% off with real F-Secure Freedome VPN discount code. Get it when the discount code is still valid.



Published by & last updated on June 10, 2020 2:27 am