Hi. How to unlock Mobile from [email protected] notice on Safari? I have an iPhone 7 and I recently just went to open my browser but received a pop up saying the safari cannot open the browser because the address is invalid. I then noticed an open tab from stating to be Australian Federal Police and that they have locked my browser and to open my browser I have to pay a penalty. I have been asked to send email to [email protected] for unlocking. I'm not sure what this is, is it a scam? It also says I have been viewing illegal content, which I certainly have not. Please help me out. Thank you.
[email protected] notice is brought by a scam virus dispatched by the cyber criminals. If you see such a police threat on Safari that demanding a fine to unblock, your device is infected with a serious virus. The virus blocks Safari and states that it is from the Australian Federal Police. It accuses you of viewing illegal pornography and demands a fine as the punishment. In fact, the information is phony. The cyber criminals are trying to scare you into paying a fine by making up a criminal case in the name of famous police. Besides, [email protected] notice will not disappear and the virus will keep staying in your device until you get it off completely. If your Safari is taken by the "Your device has been locked for illegal pornography," calm down and do not trust the notice. What you need to do is removing the nasty virus behind this scam to unlock mobile from [email protected] notice on Safari. Do not give it any chance to steal information or money from you.
How Do I Know that [email protected] Police Notice is not Real?
Someone may say how come [email protected] notice is fake as they have the police email. The email address looks like an official one. No one dares pretend to be the police. Besides, someone did watch porn right before the "Your device has been locked for illegal pornography" warning showed up. They believed that it was the real police warning without doubt. However, we have to tell you that the [email protected] warning is definitely fake. The cyber criminals can imitate the official-like email address and real police notice. They are the ones who dare to steal the name of police to swindle money out of innocent users. They can do anything that help them get money.
Concerning the pornography, it's still the hackers who play trick for illegal money. The hackers would like to place virus on adult sites and game sites as they are very popular among young and old. Hence, they hold the clue that you probably were watching porn online before the virus popped up. They said you violated the laws of Australia for viewing illegal porn with the elements of child pornography, rape, and zoophilla. In fact, you might only watch regular porn, but it seems that is a bit close to what you have done. In this way, many users fell for it and paid the fine immediately, thinking that they did something wrong and trying to get rid of trouble soon.
How to unlock Mobile from [email protected] notice on Safari?
However, they didn't expect that paying the so-called fine didn't help them get rid of the scary notice. The "Your device has been locked for illegal pornography" police threat is still there though they paid the penalty. Sometimes, it may say that your case will be processed in 24 hours. Nothing will change how many hours you have been waiting for. The virus will stay in your device until it gets what it wants from you. If you want to unlock mobile from [email protected] notice on Safari and keep your device safe, you should remove the fake police scam virus as soon as possible.
Since paying the so-called fine won't help you remove this scam virus, manual removal is an effective solution for this. Processing manual removal is supposed to have a certain level of tech skill. If you are not sure how to start and are afraid of making any critical mistakes damaging the cellphone, please live chat with YooCare Expert now.

How Your Device Got Infected with Ransomware?
The criminals spread scam virus via various ways. Your device will be infected easily before you can react. Let's talk some of the situations.
Situation 1: Viewing suspicious sites. Virus on malicious sites and legal sites that have been compromised can catch you and block the device immediately when you visit them.
Situation 2: Opening corrupted attachment or click on malicious links in a spam. The cyber criminals dispatch tons of spams with virus to worldwide users every day. Sometimes, virus is embedded in attachment. Sometimes, it hides on site that the malicious link redirects you to. Once you click on them, virus sneaks into your device quickly.
Situation 3: Downloading unknown software that includes malware. Sometimes, you may be convinced that a piece of certain software is useful and meet your needs very much. After you see description of the software, you may think that you will not lose anything after you install it even if it is not as useful as it says. You are totally wrong. Once you download software with virus, your device will be blocked. You are putting your device at risk.
Screenshot of [email protected] notice on Safari and similar Scam Virus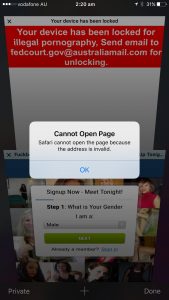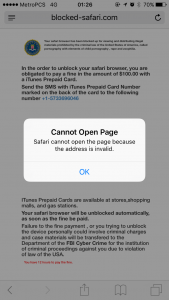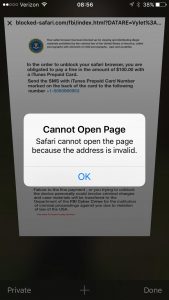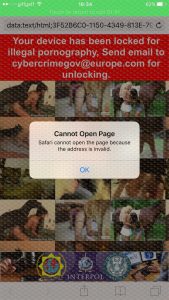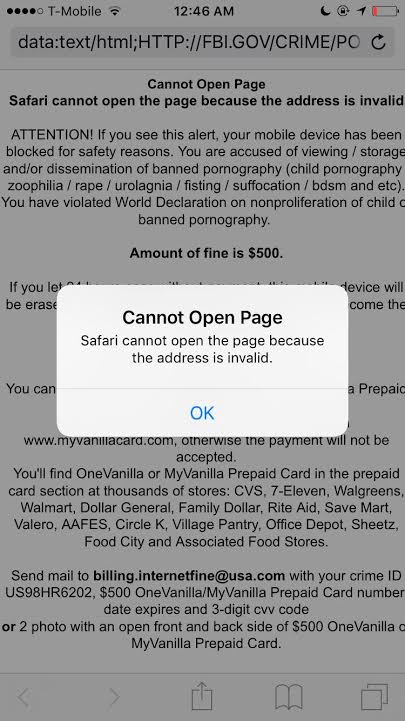 Similar Case
I got the following email after I was locked out of the internet on my phone.
ATTENTION! Your Apple ID and your Mobile Device has been blocked for safety reasons.
According to your provider web activity automated monitoring, your device was used willingly or otherwise for
viewing / sharing / publication of materials subject to Section 1 Protection of Children Act
(taking, making, showing, distribution, possessing with a view to distributing, and publishing any advertisement
of indecent photographs of children; and section 160 of the Criminal Justice Act (possession of indecent photographs of children). What do I do?
Conclusion
There is no doubt that the [email protected] police notice on Safari is caused by the virus. Your device is not locked by the Australian Federal Police or cyber police. Instead, it's the cyber criminals who take your Safari hostage for money. The "Your device has been locked for illegal pornography" police alert takes over Safari completely. It says, "Cannot Open Page." Not like other regular popup notification on browser, it does not disappear after you click on "OK" button. You can't close this "Your device has been locked for illegal pornography" page in a traditional way as no close button is provided. You can quit Safari to get [email protected] notice off your sight temporarily, but it just comes back immediately once you start Safari again. You might got stuck on a page on Safari before and fixed the problem by simply restarting the device. However, this is a different case. Restarting will not fix the problem. You need to know the nature of this police threat and figure out a way to unlock mobile from [email protected] notice on Safari. Get the evil virus and get rid of it immediately. As the virus is able to block some of the antivirus programs, they can't detect the virus, let alone removing the virus. So far, manual virus removal is the most effective way. You can locate the malicious files and remove them once for all. That will surely help you unlock your mobile from [email protected] notice. Do not waste any time in waiting. Remove this scam virus before it takes next action to steal money from you.
Suggestion: Manual removal is a skillful and risky job, if any mistakes are made during the removal process, you may damage your phone immediately. If you are not sure how to start, please contact YooCare PC experts 24/7 online for help right now.


Published by & last updated on May 2, 2017 2:52 pm