Have you heard of [email protected] scam virus? Hi. My iPad's browser is locked with [email protected] screen. Rest of the functions like email is working normal. It says my iPad is locked for illegal activities and demands money. I swear that I didn't do anything as it says. I was watching a funny video on Facebook. It was shared by my best friend. I didn't expect that I could get virus on my iPad for that. I know little about computer and have no idea how to remove it. Can you please help and guide me to remove this virus? Thanks a million.
[email protected] scam virus is created by the cyber criminals to attack mobile device for illegal money. It is a new member of the Urausy vrius family which takes innocent users' devices hostage and demands a non-existed fine to unblock device in the name of cyber police. This virus uses the old tricks of its predecessor. However, there is still something different. It requires you to send an email to [email protected] At the first sight, it really looks like an official email. Many people would be scared by its name thinking that they really have trouble with the police. It also claims that your device is locked for illegal pornography. You need to send email to [email protected] for unlocking. People who know little about computer will believe that it is real and do as it demands. In fact, it is only a scam virus. Its owner is not the real police. This phony message is released by the cyber criminals. They are trying to swindle money out of you by scaring you with the fake police warning. If you see this message on your device, do not send email or pay the fine to so-called police. It will not help your infected device. Do not ever trust the evil criminals. To get rid of this fake police threat, you need to remove the scam virus completely.
Should I Worry When My Device is Infected with [email protected] Scam Virus?
According the computer experts, [email protected] scam virus is pretty harmful to mobile device. It has been created to help the hackers grab your money and personal data. You should not understate and ignore it. Once it sneaks into your device, it displays fake police threat to scare you. This virus is able to attack Android, Apple and Windows mobile devices. Sometimes, it only blocks your browser app, such as Safari app, Internet app and Google Chrome. Every time you open the browser app, you are redirected to the fake alert page. When you try to open a new tab, it says that Cannot Open Page. Not like other mobile device notification, it does not disappear after you quit the browser. It appears again and again though you restart the device many times. Sometimes, it blocks everything on Android device. The [email protected] ransomware takes over the whole screen and does not allow you access the home screen. You might install a reliable antivirus program. However, this virus is strong enough to block the antivirus program. It cannot help you stop or remove the virus once your device is infected. According to our customers' descriptions, they only had about 3 to 5 seconds after they started the device. In this way, they had not enough time to look for the virus, let alone removing it. You will not know what the virus will do to damage your device for more valuable information. Do not allow it to stay on your device for a long time. We strongly suggest you remove [email protected] malware as soon as possible to avoid property loss.
The criminals spread [email protected] scam virus via various ways. Your device will be infected easily before you can react. Let's talk some of the situations.
Situation 1: Viewing suspicious sites. Virus on malicious sites and legal sites that have been compromised can catch you and block the device immediately when you visit them.
Situation 2: Opening corrupted attachment or click on malicious links in a spam. The cyber criminals dispatch tons of spams with virus to worldwide users every day. Sometimes, virus is embedded in attachment. Sometimes, it hides on site that the malicious link redirects you to. Once you click on them, virus sneaks into your device quickly.
Situation 3: Downloading unknown software that includes malware. Sometimes, you may be convinced that a piece of certain software is useful and meet your needs very much. After you see description of the software, you may think that you will not lose anything after you install it even if it is not as useful as it says. You are totally wrong. Once you download software with virus, your device will be blocked. You are putting your device at risk.
Since sending email won't help you remove this scam virus, manual removal is an effective solution for this. Processing manual removal is supposed to have a certain level of tech skill. If you are not sure how to start and are afraid of making any critical mistakes damaging the cellphone, please live chat with YooCare Expert now.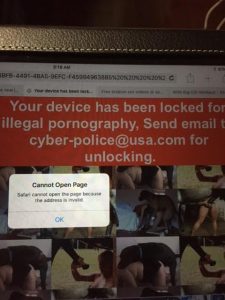 Step-by-step Guide to Unlock Your Tablet/Phone from this scam virus
Step 1: Please try to put the infected android phone into Safe Mode at first to unlock the screen temporarily from the powerful scam virus
(1). For various android phones: hold down the power button to bring out the menu with Power Off and Reboot option—-hold down the Power Off option (If nothing happens, please tap and hold the Reboot option instead)—-click OK on the pop-up box asking if you want to access safe mode
(2). For Samsung Galaxy S4 and Samsung Galaxy S5: power off the device—-turn on and tab the soft-touch Menu button repeatedly
(3). For Samsung Galaxy S3 and other phones with similar customized android system: power off the device—-turn on and hold down the Volume Down button (try Volume Up or Volume Down and Volume Up together if Volume Down does not work) when the brand logo shows up
You will see "Safe mode" at the lower left corner of the screen if you access safe mode successfully

Step 2: Search and remove suspicious files which are related to the virus
Step 3: Reboot the device to get out of safe mode.
Conclusion
There is no doubt that the [email protected] screen on your mobile device is scam, we call it [email protected] scam virus. If your device is infected with this virus, the first thing you need to keep in mind is that you are not supposed to pay the fine. The real cyber police will not inform you such a criminal case via pop-up website or screen lock message. If you did violate the law, they would break in your house and take you to the prison immediately. Or, you would receive an official document or phone call. The police will not treat a criminal case so casually. Hence, there is no need to pay a fine or send someone an email. On one hand, the fake police warning will not go away if you follow its guides. Your device will still be infected. On the other hand, you are supporting the cyber criminals. If they get what they want from you, they will continue to create more viruses to scam more people. You can image how horrible it is if the hackers take control of the cyber field. As we all know, the cyber criminals spread this virus to steal your money. They will spare no effort to get what they want. More malware can be downloaded to support its evil task under the help of the remote hackers. Your money, credit card detail and accounts and passwords are at considerable risk.
Can't remove the virus and are afraid of making any critical mistakes damaging your mobile device? please contact YooCare Expert for further removal help.

Published by & last updated on November 25, 2016 2:37 am