Hello. I am in trouble. "MAC Malware Warning Alert" message pops up on my MacBook continuously though I installed a piece of reliable antivirus software on it. How come the malware bypasses my antivirus software and stays there well? I need to fix this issue soon because "MAC Malware Warning Alert" makes me feel nervous. I am afraid that the malware would steal my credit card detail. I made payment on this Mac all the time. Though the alert gives me a free toll number to call, I don't trust it. You helped me remove ransomware before, so I come here for help again. Please help me remove the alert completely. Thank you.
Brief Information of "MAC Malware Warning Alert"
"MAC Malware Warning Alert" is caused by the fake tech support virus. This virus hijacks your browser like Google Chrome and Safari and displays non-existed alert to scare you into calling the fake tech support for help. The alert claims that your Mac has been infected and you must call support technician to fix the problem. The virus pretends to be the Apple Certified technician and try to persuade you to purchase their useless software. We kindly remind you that it is a tech support scam. The Apple support will not send you alert via a web message. In fact, the "MAC Malware Warning Alert" is delivered by a deceptive website. In the beginning, the cyber criminals mainly attack Windows users with tech support scam. In those days, they start to target on Mac users with the same trick. Once you see "MAC Malware Warning Alert" on your Mac, remove the virus behind it manually and keep your Mac from safe. Do not send money to support the fake tech company.
How Did Your Mac Get "MAC Malware Warning Alert"?
Most of Mac users install antivirus software as they realize the importance of computer security. However, virus still can access their devices. We have to admit that there is not a perfect antivirus program that can detect and remove all kind of viruses. According to the virus removal experts, the viruses are changing all the time. It needs time to make corresponding solutions. Hence, it's normal that "MAC Malware Warning Alert" tech support virus appears on your Mac though you have antivirus program. Usually, this virus sneaks into your system with ad-supported software that you downloaded off the Internet. It is installed as a plug-in along with unknown third party program. Few people pay attention to the EULA and Privacy Policy and do not care what will be installed alongside. You must know that the virus will seize any chance there to attack your computer. Refuse any unknown plug-in or player from unreliable websites. Besides, you might click on malicious pop-up ads. Virus hides in corrupted ad links is able to attack your Mac once you click on it. To avoid virus, pay more attention to the additional programs that come bundled with software from unknown websites. Do not click on strange pop-up ads.
How "MAC Malware Warning Alert" Works?
Once your Mac system is infected, the virus figures out the websites you visited the most and injects malicious link to your address bar. Once you click on the infected link, you will be redirected to deceptive website which shows you bogus notification. It tells you that suspicious activities found on your computer. Sometimes, it is "Your Mac computer has (13) infections!" Sometimes, it says Mac computer may have found unauthorized access on your computer. The virus threatens that your credit card details, banking information, passwords, social media chat logs, private documents and other sensitive information are exposed to risk. It is trying to scare you with the virus alerts. Next, it prompts you to call the tech support for help by providing a number. It says the Apple certified technicians will help you out. In fact, the cyber criminals are behind this "MAC Malware Warning Alert" and control the virus secretly. When you open your browser, the phony warning hijacks your homepage and prevents you from closing the website properly. In this case, you may believe that your Mac is at considerable risk and call the given number for help. We have to tell you that it is a bad idea to do this. They are trying to swindle money out of you instead of helping you. We suggest you remove the virus so as to get rid of "MAC Malware Warning Alert".
Processing manual removal is supposed to have a certain level of computer literacy. If you are not sure how to start and are afraid of making any critical mistakes damaging the computer system, please live chat with YooCare Expert now.

Screenshot of "MAC Malware Warning Alert"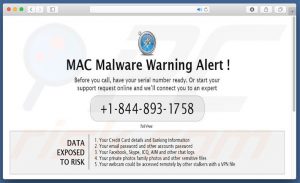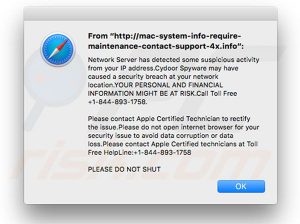 Notice: Please do a system backup before you start to delete "MAC Malware Warning Alert" malware manually
1. Since your browser is already blocked by "MAC Malware Warning Alert", you can't exit out the virus page in a normal way. If your Safari browser is hijacked by this Ransomware, you can click the Search button in the top right corner like the picture shows. And then type in: Safari and hit Enter key to reopen a browser without virus page first.

2. On the Apple menu bar, click Safari, and then click Preferences.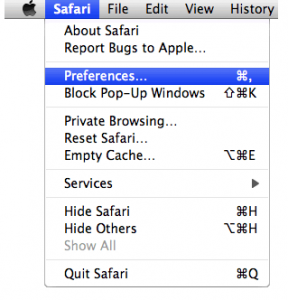 3. On the Extensions tab, delete all the suspicious add-ons.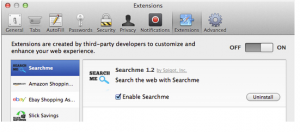 4. Next, select "Preferences", go to the "General" tab and change the "Default Search Engine" to Google. Then, in the "General" tab, find the "Home Page" and change it to "google.com".
5. If the "MAC Malware Warning Alert" page still appears, please contact YooCare experts online for further help.
Conclusion
In a word, the "MAC Malware Warning Alert" is fake. The cyber criminals make use of it to generate revenue. They try to put Mac users under pressure psychologically. It makes it easy for the experienced salespeople to persuade innocent users to buy their useless products. Hence, do not call the tech support company though it is pretty upsetting to handle this "MAC Malware Warning Alert". You ought to remove the virus manually. If you purchased and installed the software, we suggest you remove it. No one knows whether it will install more malware on your Mac to create chaos. Locate the related files of this virus and remove them completely. Get rid of "MAC Malware Warning Alert" once for all.
Can't remove the virus and are afraid of making any critical mistakes damaging your computer? please contact YooCare Expert for further removal help.

Published by & last updated on September 30, 2016 6:32 am