Need help getting rid of iPhone's Internet scam message blocking. I was searching for porn back then. (Don't judge. Everyone needs it!) When I clicked on "Download", this message from the US Marshalls popped up suddenly. It said I was accused of watching and storing child porn which I have never done. I have been wronged. It ordered me to pay $500 via PaySafeCard within 72 hours. If I don't do this, I will be taken to court and put in prison for 6 to 8 years. I was about to pay because I was so scared. But I hesitated. Luckily, I searched it on the Internet and found it is a scam. However, I can't access Internet on my Safari. Only the scam message is displayed there. How to get rid of it? Please help me out. Thank you.
Brief Information of iPhone's Internet Scam Message Blocking.
If you use your iPhone/iPad to download malicious programs or visit corrupted websites, your device may be infected with ransomware, such as US Marshalls virus, FBI virus, AFP virus, ICSPA virus, CSIS virus, etc. When your iPhone/iPad is infected, it blocks your Safari, Google Chrome or Google App and displays scam message to trick you into paying money. This is the iPhone's Internet scam message blocking. It states that you have been performing illegal activity, such as downloading copyrighted material via the Internet, spreading illegal content. Do not be panic. The owner of this message is not the so-called authority but the cyber criminals.It is only a nasty virus that steals the name of authority to swindle money out of you. The police will not be at your door and take you away for iPhone's Internet scam message blocking. The only thing you need to do is to remove the scam message virus out of your device.
How To Avoid iPhone's Internet Scam Virus Message Blocking?
The scam virus is bundled with other third party program which makes it difficult for you to identify with your eyes. It can hide in regular free software package that has been hacked. Once you install this kind of software, the virus is installed alongside immediately. We do not suggest you download free software from unknown websites. You can download program you want from the App store to make sure that you will not suffer from iPhone's Internet scam message blocking. Also, virus can hide on malicious websites or legit websites that have been hacked. You may want to visit some websites for curiosity or are redirected by pop-up ads. While you are browsing or clicking on a picture or link, virus can be downloaded. Next time, do not visit suspicious websites and get away from virus. In addition, the criminals spread virus via email spam. They hide virus in attachment or in a specific link and dispatch the spam to thousands of email users throughout the world. The email will first establish a false pretense for contacting you, usually claiming that your account needs to be updated, confirmed or verified. When you click on this kind of attachment and link, you are downloading the virus. Hence, check the email address from which the message was sent carefully. If it is from unknown people or organization, ignore and delete it as soon as you see it. As the scam virus is pretty tricky and complicated out there, you ought to be very cautious when dealing with unknown programs on the Internet to keep your device safe.
How Does It Work?
As soon as the scam virus sneaks into your iPhone/iPad, it blocks your browser and will not let you access the Internet. Every time you open your Safari, Google Chrome or other browser app, only the internet scam message blocking thing is there. It will not go away though you quit your browser and even restart your iPhone/iPad for many times. The internet scam virus message claims that it is from the US Marshalls, FBI, cyber police or other famous law enforcement agency and take advantage of the copied law enforcement graphics to make it authentic. It says illegal activities have been detected and your device is blocked for safety reason. To unblock your device, $100 to $500 is demanded. You can pay via Paysafecard, Moneypack, Ukash vouchers,itunes card and other prepaid card that are difficult to track where the money is going to. Sometime, it just displays your IP address, location and contacts saying that the police are coming to you and your friends will be interrogated for what you have done if you do not follow its guide to pay. Do not ever trust it. In fact, it is rather simple to code a web page that can query your IP address and there are public databases available that correlate IP addresses of Internet providers with physical location. This is simply a smoke-and-mirrors trick to scare you into thinking that the police are tracking your online activities. You do not have any trouble with the police. The only trouble is the iPhone's Internet scam message blocking. Luckily, you can fix the problem by removing the scam virus manually.
Since paying the so-called fine won't help you get rid of this Internet scam message blocking, manual removal is an effective solution for this. Processing manual removal is supposed to have a certain level of tech skill. If you are not sure how to start and are afraid of making any critical mistakes damaging the cellphone, please live chat with YooCare Expert now.

Screenshot of the related Internet Scam Message Blocking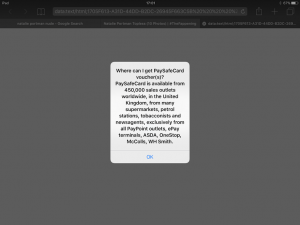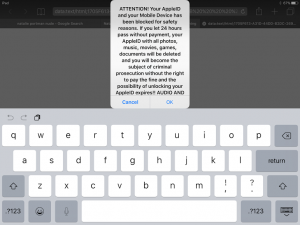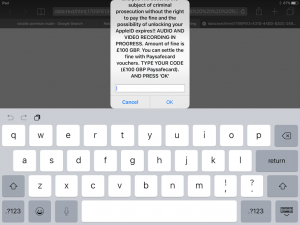 Conclusion
There is no doubt that iPhone's Internet scam message blocking is an evil virus. You may wonder how it is possible that the virus attacked your iPhone/iPad so easy while you have installed antivirus on it. We have to tell you that the scam virus program is changing all the time. To grab more money from mobile device users', the cyber criminals keep developing the virus to make it more aggressive and powerful. The antivirus needs more time to figure out a way to resolve the newest virus. Therefore, be careful with unknown programs online to keep your device away from virus. If you are a victim of this virus, get rid of iPhone's Internet scam message blocking right now. Do not pay the non-existed fine to unblock your iPhone/iPad. It will not help. The criminals will run away and leave the virus on your iPhone/iPad after they receive the money. Just ignore the scam message and remove the virus! If you have any problem when removing the virus, contact our experts for help!

Published by & last updated on August 26, 2016 8:54 am