My computer got infected with New Zealand Police virus scam again!! Last time I got this virus on my Windows 7 laptop, it blocked my computer screen and asked me to pay a fine of NZD $100 through Ukash. But this time it happens on my Mac Book Air. It locks Safari and won't let me close the browser until I pay $350 NZD. That is crazy and really freaking me out!! It seems the virus has been upgraded. It can not only lock up the computer screen but also block the browser. I knew it was a scam or ransomware. Is there any way I can remove New Zealand Police Virus without paying the fine?
New Zealand Police Virus Is A Scam That Shouldn't Be Trusted.
New Zealand Police virus belongs to Ukash group viruses and it mainly attacks computer located in New Zealand. Recently, criminal designed many versions of this malware targeting to attack computer users from different countries. This one is focus more on infecting computer users in the New Zealand. It works as similar as the previous Ransomware such as Cheshire Police Authority, Police Central e-crime Unit (PCEU), and United Kingdom Police Virus  with an aim to frighten innocent users and then scam their money.
Computer users, especially from New Zealand, may get a pop-up message saying that the computer screen is blocked by the New Zealand Police and you have to pay a fine using Ukash in order to unlock the computer. Please notice that this New Zealand Police Virus is absolutely a scam ware sponsored by cyber criminals! This message has nothing to do with the real New Zealand Police. It's a ransomware which mainly affects computers from New Zealand with the operating system of Windows XP, Windows Vista, Windows 7, Windows 8, and sometimes mac machines. It's originally from a family of rogue screen blocking messages called "Flimrans". However, many computer users, being afraid that the New Zealand Police Virus is really from the police department for the block screen is with police badge, user's images, and IP address ect. still doubt the fact that it's a scam virus. We believe this virus can hack your detail information and send them to the hackers and unknown third parties for their criminal purposes. All it wants is to trick innocent PC users into paying the requested amount of fine. Once infected, this virus will stop you from accessing all programs and files on the computer saying that you have violated the laws of New Zealand and a fine is demanded.
If this virus is running in Windows computer, it will display an imaginary desktop warning claiming to be from New Zealand Police, completely blocking your access to the desktop. From the fake police warning, it blames users who have been violating copyright and related right laws or illegally using or distributing copyrighted content and finally demands users to pay a fine of NZD $100 to unlock their computers. All symptoms are typical of Win-locker infections and users should not be taken in.
Ransomware is popular on Windows system but now cyber criminals turn their eyes to the growing market of Apple consumers. Computer users who use a Mac computer also can get infected with New Zealand Police virus easily. If the virus infects a Mac OS X computer, it takes over the browser immediately and changes the URL to be http://police.govt.nz.id657546456-3999456674.e2453.com/ which looks like a legitimate link associated with New Zealand Government. However, it is not the truth. This is just another trick designed by hackers who use means to collect money from victims. It won't let you force quit to close the browser or open a new tab, all listed on your browser screen are the law violations that you are accused on and it demands you to pay $350 NZD.
Even if you have never done the things as it mentioned, you still can get infected by this virus. It may be installed by a Trojan, come bundled with other software, or install itself through web browser security holes. Half of computer users may get infected with this Ransomware by visiting some malicious websites. New Zealand Police virus is nothing but a fake message that tries to scare users and steal money from innocent computer users. Please bear in mind that New Zealand Police warning is fake and tricky hackers design this virus to make you believe that you breached the law and should pay the fine. Prepaid payment systems like Ukash it needs enable them to steal money without being caught because it is very difficult to trace them. Therefore, don't pay anything as it requires to unlock New Zealand Police Virus, it is useless. It just will let your personal information exposed. To permanently unlock your computer or your browser, it is suggested users to follow the manual guide below.
The following instructions require certain levels of computer skills. If you're not sure how to unlock your browser or gain access to the computer again, please live chat with YooCare experts now.

New Zealand Police Virus Locks Windows Computer Asking For $100 NZD
In fact, there are many variants of the New Zealand Police ransomware in its Win-locker family. For example, the Metropolitan Police Ukash Virus launched in the United Kingdom, the Fake Federal German Police (BKA) Notice and the Die offizielle Mitteilung des Bundeskriminalamtes in Germany. Variants of the New Zealand Police Virus have been spotted in many countries in Europe, including Spain, Italy, France, Netherlands and Belgium. Once this malware resides on your computer, it blocks users from accessing to the infected computer and users can't open any files and applications. In the meantime, it displays a large message that fills up the victim's screen as the following picture shows.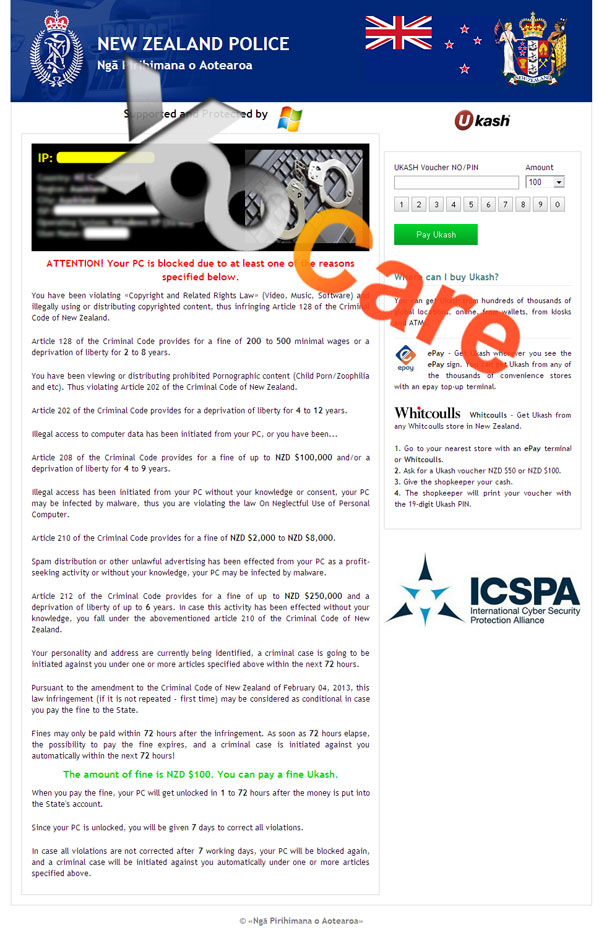 Fake New Zealand Police Warning Targets On Mac OS X And Asks For $350 NZD To Unlock The Browser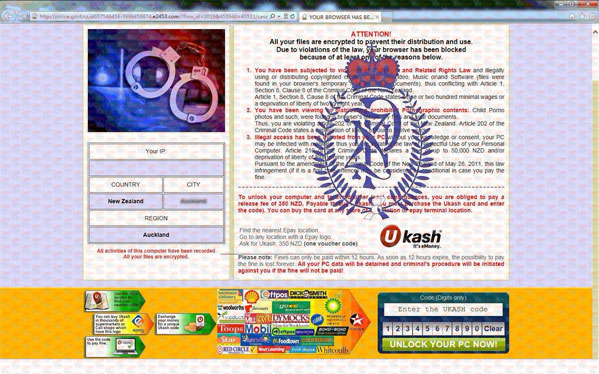 Latest Version of New Zealand Police Virus – Fine has been paid. Your case has been closed. You Can Pay 700 NZD Processing Fee To Delete All Criminal Records.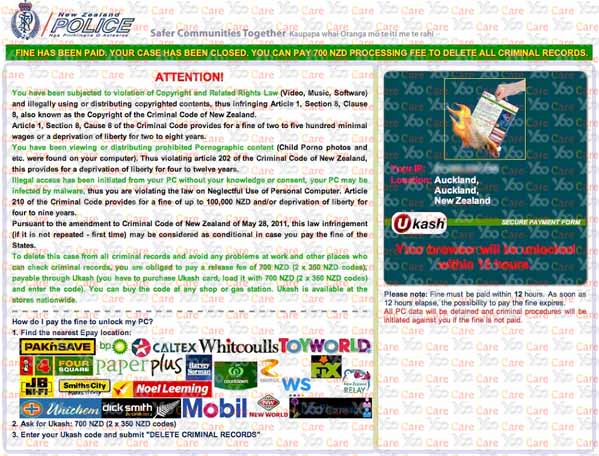 Fake New Zealand Police Ukash Virus Is Distributed In Many Ways:
Apart from being prompted by pop-up ads, malicious sites and suspicious links, this New Zealand Police Virus can also be bundled with various unknown free applications on the Internet. Your computer could get a great chance to have this virus when you download the freeware, click on the unsafe links, or open the unknown email attachments. Hence, if you are careful enough while surfing the Internet, you can reduce the opportunities of having this program installed in your system. Once it's in the system, you will see a message on the screen saying that your computer has been blocked because of some violations caused by your certain cyber activities (mostly watching pornography) and you have to take the responsibility for that and pay a fine as soon as possible. It's warned that one should not be fooled by that deceitful message. Even if you have paid the fine, you will find your computer still being locked, and it is impossible to get your money back.
Infected Symptoms Are Listed As Follow:
It will detect your IP and your host name to mislead you into thinking your computer is at risk.
It will pretend as a legit warning and ask for a ransom.
It will take over your computer rapidly when Windows is launched.
It can connect to a remote IRC server and forward the data to cybercriminals without a computer user's awareness.
It can't be simply uninstalled or removed in control panel.
It can escape from all the legitimate antivirus programs.
How To Unlock Computer From New Zealand Police Ukash Scam?
New Zealand Police Virus has completely locked up your computer making you difficult to gain access, you will need to manually remove it instead of using antivirus programs to do so. Also, antivirus programs cannot completely catch this virus. Otherwise, it would have caught it at the beginning when this malware tries to sneak inside. Below are some basic steps on how to get rid of this virus manually. However, due to the changeable characters of this virus, you may not find the exact same files or entries to delete. That's also why the manual removal requires expertise to do it. You will need to go through files and entries under different locations to define and delete. Any mistake could lead to unpredictable problems during the process. Thus, a backup of important files and programs is suggested before New Zealand Police virus removal. A flash drive or external hard drive will be needed.
Manual removal for Windows computer:
1. Since you cannot gain access to the infected computer under regular mode because of this lock screen, please restart the computer and put it in Safe mode with Networking first. Here's the guide: Restart the computer upon the locking screen and start hitting F8 key repeatedly when PC is booting up again; if successfully, Safe mode options will show up on the screen for you to select. Please use arrow keys to highlight Safe mode with Networking option and hit enter key. System will be loading files into this mode afterward.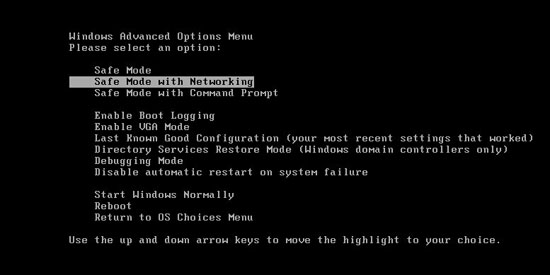 Attention: If virus stays in your computer for a long time, it may work in the background and block you from accessing safe mode with networking, thus, you'll see the New Zealand Police virus page still or the virus forces you to log off and restart your computer automatically. In that case, please choose: Safe mode with command prompt and try if it helps. If none of them helps, please contact YooCare expert for instant help.
2. Open Control Panel from Start menu and search for Folder Options. Go to Folder Options window, under View tab, tick Show hidden files and folders and non-tick Hide protected operating system files (Recommended) and then click OK.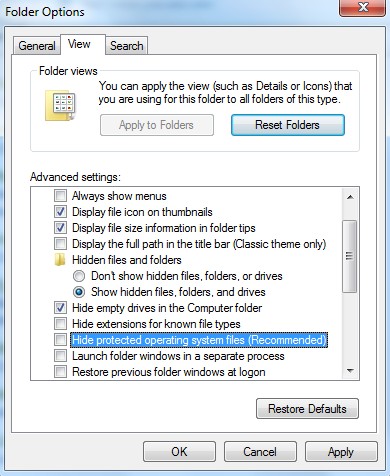 3. Under Safe mode with Networking, please hit Ctrl+Shift+Esc (Ctrl+Alt+Delete) keys together to pull up Windows Task Manager; go to Processes tab on top and scroll down the list to find processes associated with New Zealand Police Virus and click End process.


4. Open Registry Editor by pressing Windows+R keys and pull up Run box and searching for regedit.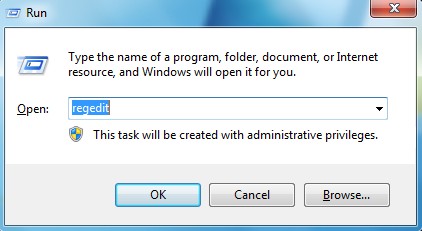 5. Find out and delete files and registry entries as below:
%AppData%\[random].exe
%AllUsersProfile%\Application Data\.dll
HKEY_LOCAL_MACHINE\SOFTWARE\Microsoft\Windows NT\CurrentVersion\Winlogon\
HKEY_CURRENT_USER\Software\Microsoft\Windows\CurrentVersion\Run\random
6. Restart computer back to Regular mode and check out if the warning page still shows up again.
 Manual removal for Apple Users: 
1. Since your browser is already blocked by New Zealand Police locked computer scam, it is impossible for you to exit out the virus page. If your Safari browser is hijacked by any Apple Ransomware, you can click the Search button in the top right corner like the picture shows. And the type in: Safari and hit Enter key to reopen a browser without the New Zealand Police virus page first.

2. If the fake warning still appears, please try to reset your browser. Once you gain access on your browser, please contact YooCare experts online for the further removal help.
New Zealand Police Virus Manual Removal Guide:
In conclusion: Get stuck with fake New Zealand Police Ukash virus screen on the computer? Cannot open other programs because of this block? Fake New Zealand Police scam virus should be removed ASAP!
As soon as New Zealand Police Virus infects your system, it completely controls over your system. Besides, it may create a backdoor to your system, allowing the hacker to control your system and steal your personal information. In general, the type of virus will infect the computer through illegal websites, spam emails or free programs that contains malicious codes. Once a user accepts it and allows it to enter the system, it will cause all types of havoc in the system. It states that you have been violating Copyright and Related Rights Law and illegally using or distributing copyrighted content. The message also tells you to pay a fine of NZD $100 through Ukash which should be done within 72 hours otherwise the possibility of unlocking your computer will expire or you will be arrested. Don't trust it. This tricky virus is only designed to scam your money.
Through studies we have noticed that such scam programs often require payments through MoneyPak, Ukash or PaySafeCard system. In fact, police departments would never collect fines in this way. So please don't trust anything this New Zealand Police Virus says and should try to remove it as soon as possible. For that, you need to be expertise in dealing with program files, processes, dll files and registry entries, or any mistakes would lead to an unexpected damage of the system. Therefore, if you are the victim of New Zealand Police Virus, please remove it manually as soon as possible.
Note: Manual removal is a skillful and risky job, if any mistakes are made in the process, you may damage your computer immediately. To save your computer or Mac book, please contact YooCare PC experts 24/7 online in time for help.


Published by & last updated on February 24, 2014 2:19 am