Have problem is selecting a proper VPN service? Let us help you find what you need. VPN has become a common product especially after the Congress allowed ISPs to sell users' browsing histories to the third parties without users' permission. More and more users purchased VPN to reclaim their privacy. Selecting the right VPN is very important. The most important aspects are that the VPN has servers in the locations you need, supports the protocols you want, and has a client if you need to use one. b.VPN is one of such good VPN services. We made every effort to ensure that this review was accurate and fair. Get more information in this b.VPN review.
What is b.VPN?
b.VPN is a Netherlands-based VPN provider which offers a solid service infrastructure with real dedicated servers for VPN network access. It uses high end encryption to secure their tunnels to provide the most private and secure network. This VPN protects users' privacy from hackers and government. Users can surf the Internet anonymously and no one can track you. It also helps users overcome restriction to access all websites from anywhere without limit.


Pricing& Promotion
b.VPN offers free trial and paid plans with affordable price. You can get 3 day free trial upon registration by simply downloading its iOS and Android VPN clients. Contact the customer support team to get a link to the currently active free offers. The provider usually gives out free vouchers for new users.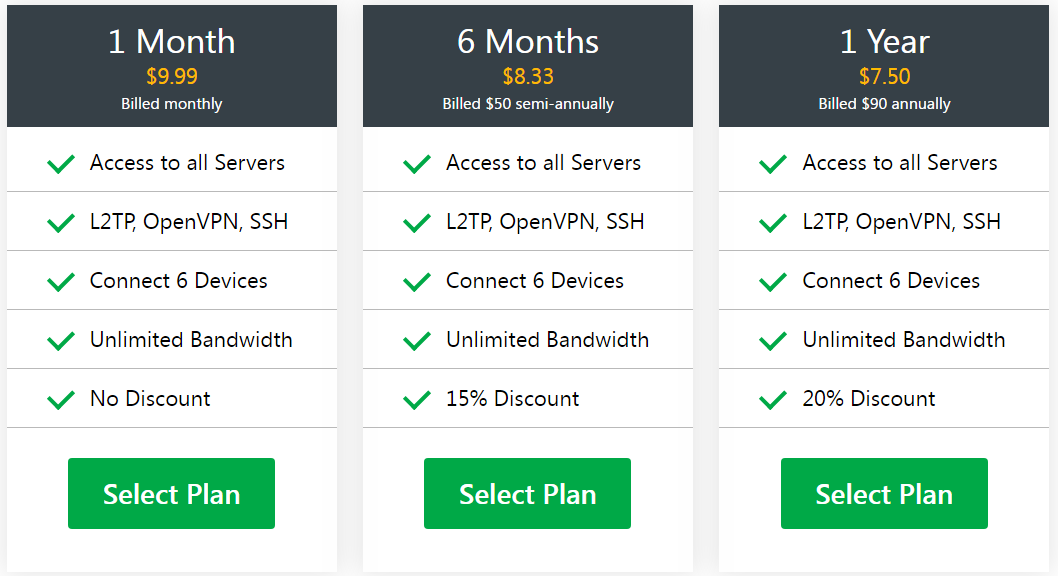 It provides three plans to meet your business and personal needs. You can choose from 1-month, 6-month and 1-year plans. They all come with the same package. If you want a short term of plan for a business trip, you can choose the 1-month plan which is 9.99 USD. The 6-month plan is 15% off. It costs 50 USD for half year and 8.33 USD per month. The 1-year plan includes the best saving which is 20% off. You only need to spend 90 USD for the whole year. It is 7.5 USD per month. You won't be broke for purchasing a great VPN. You will benefit a lot from b.VPN.
Unlimited access to a constantly expanding network of servers around the globe
Six simultaneous VPN connections per each paid VPN account
24/7 customer support with remote assistance and live chat
Applications for all major operating systems
Custom SMOKE tunnel and SSH tunnel
Real dedicated TIER 4 hosted servers
Limitless bandwidth and speed
No limits on use
Payment Options
b.VPN accepts payment via credit cards, Alipay, PayPal, WebMoney, Western Union, Mint, OneCard, CASHU, Paysafecard, Ukash, iDeal, Fanapay and Bitcoin etc. The various payment options allow many users from different countries to sign up a plan freely. Credit cards are used in all countries. PayPal and prepaid cards are good for anonymous payment. Of course, Bitcoin is the most popular option as it allows users to make payment anonymously. Others can trace the money back to users after they use Bitcoin to purchase something on the Internet. It is another protection for your privacy.


How to Purchase b.VPN Account Using b.VPN Vouchers?
Visit VPN provider here. Pull down and you will see pricing. Click on the plan you prefer.
On the left side of the screen, click on the VPN package you are willing to buy (by default, you'll find an unpaid invoice for one month, but you can change it).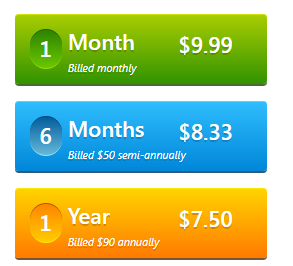 Among the payment options, click on b.VPN vouchers icon to scroll down your profile page.

Insert your b.VPN voucher code in the specified box, and then click "Submit".


Note: Please make sure that you have inserted the code without any spaces. Make sure that you have not copied a space before or after the code.
Why b.VPN?
b.VPN is a top-notch customer-oriented VPN service. It is one of the most reliable VPNs when it comes to online protection and gives you the freedom to enjoy any content you want. The provider keeps on developing their VPN with the latest technology and expanding server locations. The best encryption standard in VPN industry has been used by this VPN to protect both your online and offline data. The connection between your device and its servers is 100% encrypted and there is no chance that it could be traced by any party, even your ISP. The provider does not log your traffic or monitor your online activities. It offers smart VPN servers to help users access restricted content. They are able to help you access geo-blocked streaming services as well as VoIP applications wherever you are. Even though you are living in the country with the strictest Internet censorship, this VPN gives you Internet freedom. It helps you unblock Netflix outside US and other basic websites. Besides, it allows unlimited bandwidth and does not limit your speed. You can surf the Internet securely and freely without having to compromise your speed. This VPN is powerful while its price is friendly which starts from 7.5 USD per month. b.VPN is a great choice if you're looking for a means by which you can surf the Internet anonymously to maintain your online privacy at reasonable price.


Advanced Encryption
b.VPN secures you against hackers and makes your online presence completely invisible with bank-grade encryption. It utilizes AES-256 with SHA-256 hash authentication to secure all your connections to the Internet. When you try to visit a website, your request will be sent to the VPN server first in an encrypted tunnel. Others do not know you are what you are doing there. The hackers can't decode your data as it is almost impossible to figure out the 256-bit encryption key. Most banks, universities, business companies and other agencies use the same technology to safeguard their data center. B.VPN is secure enough to keep your data safe on WiFi hotspot in public or at home.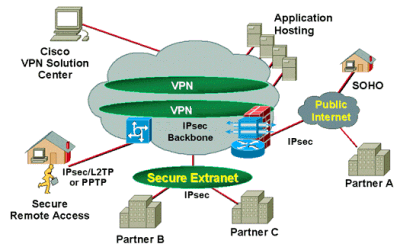 Multiple Protocols & Tunnels
It provides OpenVPN, SSH, Smoke and L2TP protocols. OpenVPN users can switch between Normal and Strong encryption, Blowfish 128-bit and AES-256 bit respectively. This VPN comes packed with OpenVPN via SSH tunnel, which is the encryption used by HTTPS connections. This is good because VPN connections through SSH tunnels are hard to tell from ordinary HTTPS traffic. They have also layered their security with supports like UDP and TCP options for a more secure network. This additional layer of encryption adds protection against Deep Packet Inspection. When you use the US VPN you are completely secured against hackers and censorship.
The proprietary Smoke Tunnel is an additional obfuscation perk that helps you bypass particularly persistent VPN blocks. Smoke is especially useful for users connecting from China, Iran, Turkey, and Russia. Besides, it even protects the VPN connection from data corruption techniques. L2TP is fast and seemingly stable in most countries except for China.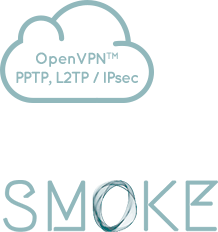 Server Locations
bVPN has 26 servers in 14 locations including USA, Canada, UK, Australia, Germany, France, Netherlands, Saudi Arabia, Sweden, Russia, India, Singapore, Japan, and Ukraine. Though the number of its servers is not as large as some providers', they scatter logically around the world and cover the most locations, working effectively. You can get faster speed on different websites and platforms when connected to one of its servers. On streaming platforms, you can connect to the servers that are closer to you and the service location. When you are on a trip, you will always pick the one near your location to get the best browsing experience. Content downloads are much faster than usual. You can access any content from these countries where the servers are located because you are supplied with a substituted or hidden IP address so no one can detect your online presence which also makes you safe from censorship. You may suffer from streaming service, social media applications and game blocks due to the geo-restriction. For example, Netflix is only available for users in US and BBC iPlayer only offers service to users with UK IP addresses. Some games do not have servers in some countries due to marketing strategy or government policy. Though your friend recommended you an amazing game, you couldn't play it as the developer does not launch server in your country. Get b.VPN and you will be able to unblock all your favorite content no matter they come with restriction or not. Once you install this VPN on your device, you get access to all servers. For torrent lovers, P2P file-sharing is allowed. You can download via P2P safely and anonymously without being caught.


Privacy
b.VPN secures your privacy from spying eyes and it itself does not keep log of your traffic. It combines the highest level of encryption with latest protocols and tunnels to create unbreakable protection to your privacy. It replaces your real IP address with new one from different country. Others can't track or identify you for browsing, downloading, uploading or conducting other activities. Besides, it utilizes the kill switch, IPv6 leak protection, OpenVPN via SSH and the Smoke tunnel to make a very solid protection. The provider states that they don't monitor users' online activities. They can't sell your browsing histories to the third parties as they don't have them at all. Though the Netherlands isn't exactly your privacy haven as a part of the 14 Eyes treaty, VPN providers in Holland aren't required to keep logs. Your privacy is very safe with this provider.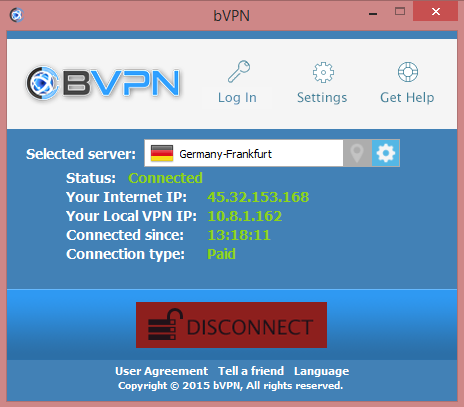 Defeating Internet Restriction
You may face Internet restriction at workplace, school or in a certain country. Due to some reasons, you are not allowed to access some websites and services. The restriction may be issued by web server or government. For example, Netflix, Hulu, Spotify and BBC iPlayer etc. only allows users in their own countries to access their content. They even block VPN access to make the system work effectively. YouTube is banned in some countries due to their government policy. WhatsApp is blocked by many governments as it comes with end-to-end encryption. The Internet restriction stops you from accessing your favorite content freely.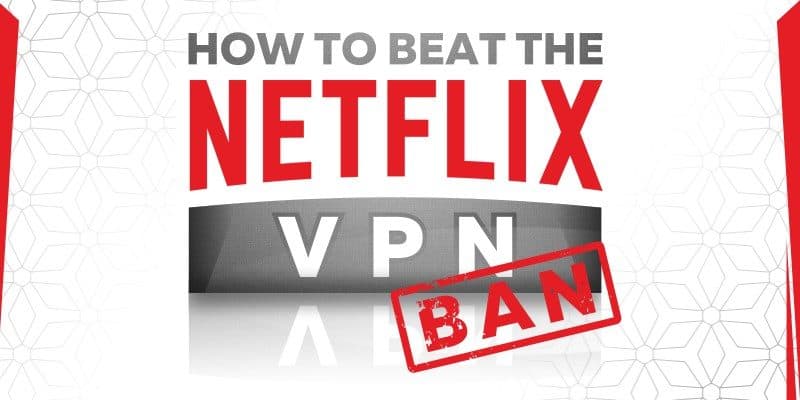 Luckily, b.VPN spoofs your location and connects you to required servers to access all the services without limits. You can unblock US-only, UK-only, China-only, China-blocked and more similar services from anywhere in the world. It removes all Internet restrictions so you can use the web freely and completely uncensored. At the same time, you can also stream much higher quality content at a much faster speed rate since the network provided by b.VPN is much more rapid than your average connection.
Compatible Devices
bVPN software has a uniform functionality and is designed for all devices so you can easily switch between devices without struggling. It supports major operating systems such as Windows, Mac, Android, iOS, Linux, and Chromium. This VPN allows six devices which is more than the average providers. You can protect all of your devices as well your family' or friends' devices at the same time. It is easy to use this VPN. As the website is well-organized, finding the download files and instructions is easy. You can get it done within minutes though you are new VPN user. Don't worry about tech issue as the provider offers 24/7 live chat. The team will help you fix the issue right away.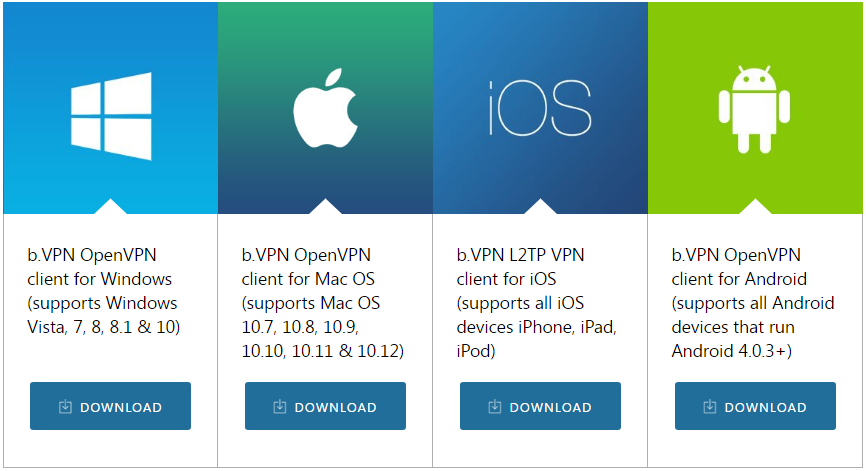 How to connect to b.VPN servers using OpenVPN client on iOS?
1. Open Apple's App Store, search for "OpenVPN Connect". Tap "Install".
2. Download configuration file on its official website.
3. Click "Generate" below your preferred VPN server.
4. Tap "Open in "OpenVPN"".
5. Tap the green "+" key. Insert your b.VPN Username and Password and slide "Save" button on.
6. To connect, slide the button below the word "Disconnect" on. Now you're connected!
Customer Support
b.VPN support agents are 24/7 available with online chat and even remote assistance. They are well-prepared to answer a wide range of inquiries concerning the administrations they give, impelling: sorts of encryption, velocity issues, specialized issues and server locations. You will get a fast answer via live chat. It also allows you to leave messages via ticket and send specifically to their office as they provide specific address of their office. You will get your assistance soon. It takes longer time to get a respond. A phone number also is provided on the website. Simply call them if you don't want type. In addition, it provides point by point FAQ areas so as to make it simpler for clients to comprehend the administrations offered by b.VPN and take care of any issues they may run over. That is very convenient.

Does b.VPN Bypass the Great Firewall of China?
The Great Firewall of China is updated every now and then. In late 2015 and early 2016 the vast majority of VPN services had been blocked. The Chinese firewall implemented a list of backup techniques to break and disconnect a VPN tunnel even if it managed to establish. Many protocols have been detected and unusable. To help users in China bypass firewall, this provider offers more and more customization for their VPN tunnel. They provide Smoke tunnel which is established between your device and the server. This tunnel sends camouflage packets to cover up the OpenVPN TLS handshake. Besides, it adds traffic obfuscation to make VPN traffic indistinct to DPI firewalls. In this way, it is able to circumvent the firewall and assists you to access Google, YouTube, Instagram, WhatsApp and more famous websites in mainland China. By the way, we suggest you download and set up VPN before moving to China as the firewall block the website to download VPN. If you are already in China, you can use Shadowsocks to get VPN. Once it's installed on your device, you will be able to escape from the high Internet censorship.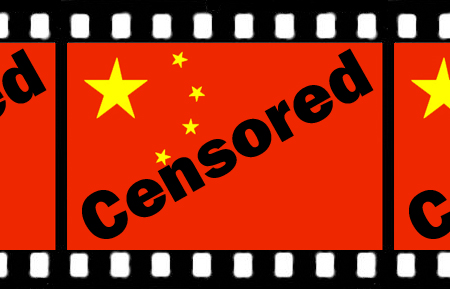 Top 10+ Best VPN Services In The World
| VPN Brands | Servers | Country | # of Connections | Price(USD) | Official Website |
| --- | --- | --- | --- | --- | --- |
| | 2000+ servers in 94 countries. | British Virgin Islands | 3 | $6.67/Month (Save 49%) | Best Choice |
| | 1,000+ servers in 60+ countries. | USA | 10 | $4.87/Month (Save 60%) | View Deals |
| | 4410+ servers in 62+ countries. | Panama | 6 | $3.99/Month (Save 66%) | View Deals |
| | 200+ servers in 70 countries. | Bulgaria | 6 | $4.18/Month (Save 50%) | View Deals |
Click Here to Read More Top 10 Best VPN Services »
Conclusion
b.VPN checks out as a competitive VPN provider. It has done a great job in safeguarding Internet users' privacy and unblocking restricted contents. It delivers safe, fast and private network service to worldwide users. Though it is already a powerful VPN, the provider never stops perfecting the service by utilizing the latest technology and expanding their servers. It has been very popular in countries that have high levels of Internet censorship, like China, Russia, Turkey and the Middle East, helping users bypass restriction and access to the global network freely. It uses the latest encryption technology to secure your connection to the Internet and masks your IP address to hide online ID. Your privacy is highly protected. The flexible payment options make this VPN service available to most of the population on the earth. With b.VPN, you can browse any content or website you like, stream any movie you want or enjoy any online game you fancy without having to worry about the authenticity of the websites or about being censored. Just say goodbye to geo-restriction with this VPN. Get deal now. It is only $7.50 USD per month.


Published by & last updated on June 10, 2020 2:36 am